Turmoil over Matiba empire as lawyer demands Sh234m legal fees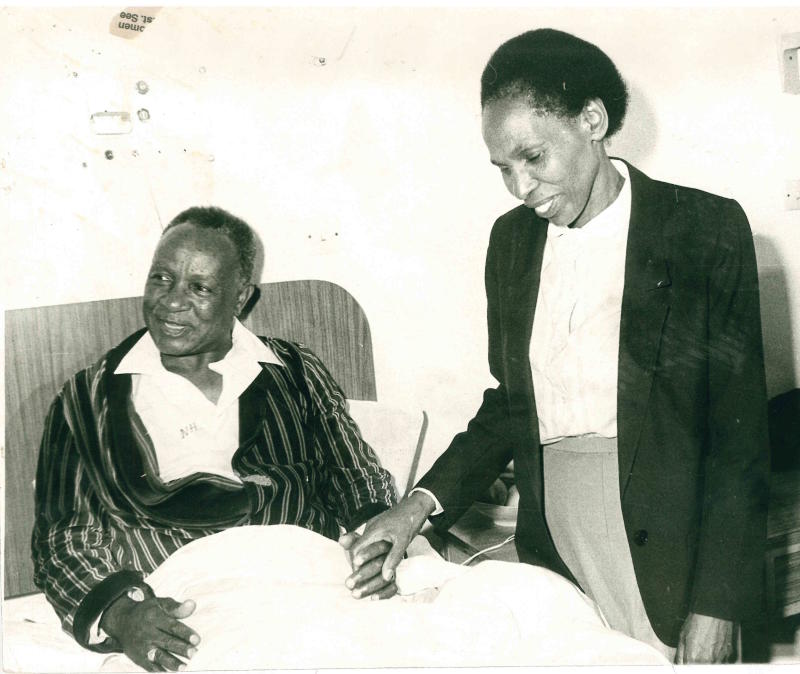 A dispute has broken out between the family of politician Kenneth Matiba and a lawyer who represented him in a case before his death.
John Mburu has sued Matiba's widow Edith Wanjiru, daughter Susan Wanjiku and son Raymond Matiba for Sh234 million, claiming it is his rightful share of the Sh945 million awarded to the politician by Justice Isaac Lenaola in September last year for torture and illegal detention during the clamour for multi-party democracy in 1990.
Turned their backs
Mr Mburu claims Matiba's family has "turned their backs on him and become hostile despite the sacrifices he made on behalf of the late politician", adding that he was Matiba's close friend and political strategist before his health deteriorated.
"Since judgment was delivered, the deceased's family has tormented me, including invoking the name of the President, who they are close to, and trying to use illegal means to have the money paid directly to their account in a bid to deny me what I worked for," swears Mburu in an affidavit.
But Attorney General Kihara Kariuki has come to the defence of Matiba's family by filing an application to be enjoined as an interested party in the matter. He accuses the lawyer of lying to the court to claim the "exorbitant" fee.
Through State Counsel Emmanuel Kiarie, the AG argues that Mburu sued Matiba's family in bad faith, with a view to conceal the facts surrounding the dispute over his legal fees.
"His application is scandalous, incompetent and an abuse of the court process. He deliberately left out the AG to conceal facts surrounding the case. It is only fair that we be joined in the proceedings to help the court settle the dispute," said Mr Kiarie.
Hundreds of hours
According to Mburu, Matiba's family instructed him in 2013 to institute proceedings against the Government for damages arising from his detention in 1990, which led to the deterioration of his health as well as the attrition of his wealth.
The lawyer argues that he spent hundreds of hours working on the case at his office, home, libraries and going through newspaper articles to gather evidence, and that it was his efforts that led to the record award of close to Sh1 billion, thus justifying his demand for Sh234,829,522.
"In fact, the family initially had lukewarm interest in the case and gave me little support. It was only after they realised I had built a formidable case that could lead to an award of billions of shillings that they gave me unsatisfactory and poorly coordinated support," he swore.
Mburu says soon after the judgement was delivered, the family was anxious to have the amount paid, but quickly balked at settling his legal fees.
According to the lawyer, the family "became hysterical and highly agitated" during their meetings, while insisting that he accepts a lower fee that he felt was not commensurate with the work he had done for Matiba.
"They stepped up harassing me and levelling all manner of baseless and abusive statements regarding my fees, with their actions indicating that I am not worthy of reasonable remuneration despite my hard work for their father," said Mburu.
He claims a few weeks before Matiba died, he learnt from the AG's office that someone close to the presidency was pushing to have the money paid directly to the family without engaging him in a bid to deny him the millions of shillings owed in legal fees.
Blame for financial problems
At one point, he claims the family started blaming him for their financial problems, adding that even Edith joined the children in demonising him for demanding what he had worked for for four years.
"They thought the judgement had come as some manna from heaven as opposed to being a product of very heavy, hard work on my part. They have also adopted the attitude that the money is their sole property, which I have no say in at all," said Mburu.
The lawyer argues that despite being close to Matiba as a confidante during the latter's campaign for presidency in 1992, the family viewed him as a dishonest person and was openly hostile when Matiba died, forcing him to keep a safe distance.
After Matiba's burial, the lawyer says a senior politician from Murang'a tried to intervene "but was taken aback by the bad blood and realisation of the family's continued harassment and insults directed at him".
Mburu says he suggested to Raymond that they appoint an administrator for the estate to enable them pursue the claim from the Government, but the son became evasive and declined to pick his calls.
Ties with Matiba
"It depressed me that they considered me an unwelcome intruder in their lives despite the work I did in building up the case for their father, which they had no interest in. Today, they don't communicate with me at all, leaving me with speculation," said Mburu.
He says the family lied to him by saying they would not file an application for letters of administration of Matiba's estate, only to learn later that Edith, Susan and Raymond had secretly been given authority to assume control of the estate.
The lawyer says due to his close ties with Matiba, he did not wish to pick a fight with the latter's family but has been forced to after realising their intention to deny him his dues.
"Relations between me and the family have irretrievably broken. They have clearly disowned me and shown they do not recognise me as an integral part of recovering the decreed amount. They have abandoned me and are handling the matter mysteriously behind my back."
According to the lawyer, the family has been going round telling people that he was not the one detained to be entitled to damages awarded to their father.
Mburu swears that since Matiba's family disowned him and decided to pursue the Sh945 million on their own, he wants the court to allow him to seek his fees directly from Edith, Susan and Raymond, who have been granted power to represent Matiba's estate.
He adds that Matiba's family has threatened to ruin his career if he continues demanding the money, and that the situation has become so bad that only the court can intervene to help him recover what he worked for.
Edith, Susan and Raymond are listed as respondents in the case but the three have not replied to the claims against them. The case is scheduled for hearing today.