Lobbying for new boss hots up as Boinnet's tenure nears end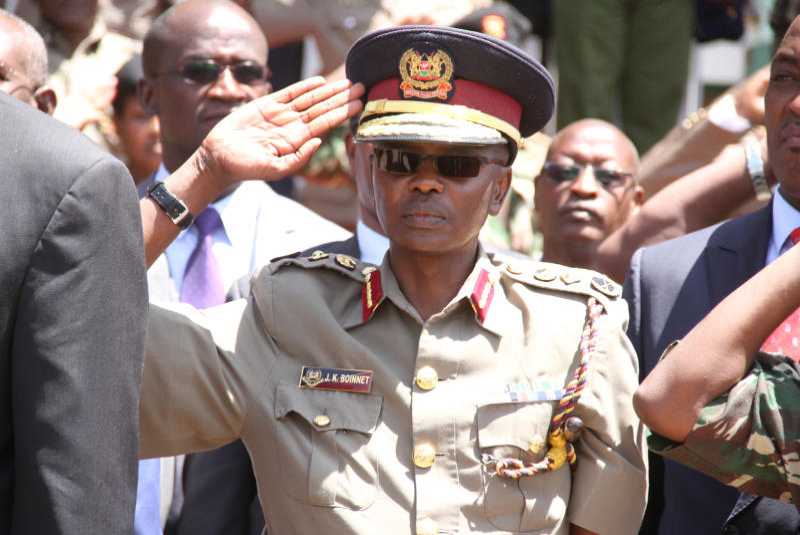 Intense lobbying has kicked off over who will replace Inspector General of Police Joseph Boinnet as the expiry of his term fast approaches.
The police boss, a career spy turned cop who was sworn in on March 11, 2015 to rein in on terror attacks that had gripped the country, is set to retire in slightly less than three months as outlined by the Constitution.
"The Inspector-General shall be appointed for a single four-year term, and is not eligible for re-appointment," says the Constitution.
But even with such time left on Boinnet's clock, insiders at State House have intimated a cut-throat competition by power players keen on influencing President Uhuru Kenyatta's next choice of police boss to their favour.
Those in the know say that with the country approaching a transfer of presidential power in less than four years, the selection of the next IG will not just be about who will be in charge of the police but it would be heavily influenced by politics. Boinnet, who is set to become the first IG to complete his term, has largely been seen as a neutral choice for the position following the forced resignation of his predecessor, David Kimayo.
Mr Kimayo, who was Kenya's first IG under the new Constitution, was selected by the National Police Service Commission (NPSC) while Boinett was picked by the President. Now with the next IG set to oversee what promises to be a heated presidential election and transfer of power following the retirement of President Kenyatta, the interest in this position is at an all-time high.
Final say
Among those tipped to replace Boinnet is Edward Njoroge Mbugua, the Deputy Inspector General of Police in charge of the Police, and Noor Gabbow, the head of Administration Police. The President could also appoint one of State House's insiders and National Intelligence Service Director General Philip Kameru or Director of Criminal Investigations George Kinoti.
Sources have however said that there is intense lobbying for either Mbugua or Gabbow to succeed Boinnet. Both were appointed to their positions this year after the firing of Joel Kitili (Deputy IG in charge of police) and Samuel Arachi (Deputy IG in charge of AP).
"This one will be a difficult one even for the President -- who has a final say on who will be the next IG -- from the push and pull already being witnessed," said a source aware of the going ons.
"Remember the President has already made police reforms one of his key agendas so he will be keen on appointing an IG who will mould the service into the image he has in mind," said the source.
Mbugua, seen as a close ally of the President having previously worked as the head of the presidential guard and his appointment as deputy IG despite being aged above 55, has been described by observers as quite telling.
Gabbow, a former commandant at the Kenya Police Training College in Kiganjo, has also risen fast through the ranks and is the only non-AP chief to head the unit. It is said that this is the man Deputy President William Ruto's camp would wish to have at the top if they had their way. Ruto has done all he can to get the pastoralist communities under his wings. Gabbow as IG will be a feather in the cap of his presidential ambition.
But whether the President will grant Ruto his wish or appoint his own man for the position is something political and security observers are watching keenly.
While addressing police chiefs at the end of last week, President Kenyatta reiterated his intention to transform the service through reforms already initiated.
"They (reforms) will clarify and simplify command and control, increase both accountability and performance and they will make the police more than equal to the threats that face our nation," said Uhuru.
Police reforms
Last month, and while speaking in the context of ongoing police reforms, IG Boinnet told Saturday Standard that "the law is very clear" on his term of office.
"It cannot get clearer than this, four years!" he said.
He confirmed that he was indeed exiting the force early next year following completion of his term but did not want to be drawn into succession talk as, in his words, "there is a lot to do before that time comes."
And although many pundits would like to label ongoing reforms as his legacy project, Boinnet was quick to distance himself from such assertions: "I do not see it that way. I see all this as coming to overcome the challenges that have bedevilled our force for years. It was not for personal glory."