TV star Maribe held as police lineup charges in Monica's murder case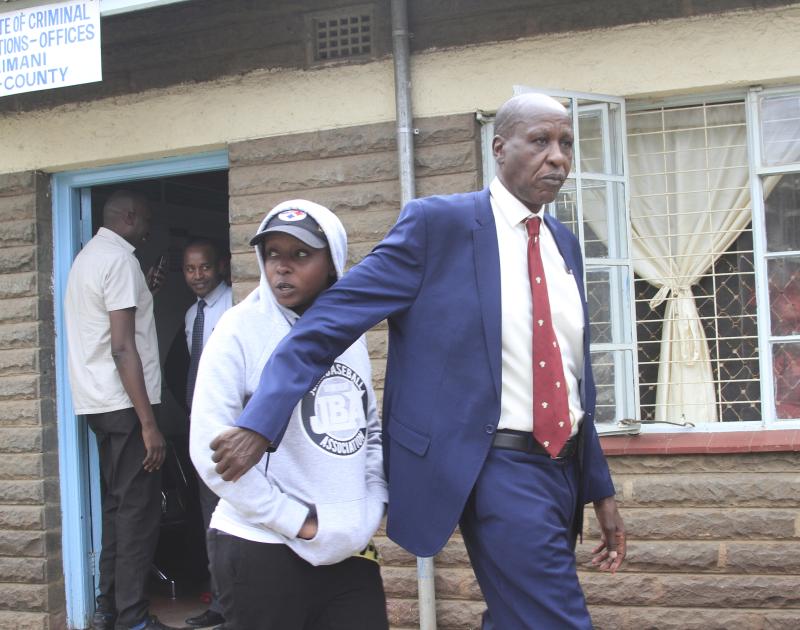 The State last evening decided that television journalist Jacque Maribe will face charges as an accessory in the gruesome murder of Monica Nyawira last week.
Maribe was arrested shortly after 7pm and taken to Gigiri Police Station and she will most likely spend the weekend behind bars awaiting to be arraigned in court tomorrow.
She had been summoned to the Directorate of Criminal Investigations (DCI) to record a statement for the third time. Her fiancé Joseph Irungu alias Joe Jowi was arrested on Tuesday over the murder that shocked the country.
Incidentally, it was Maribe who read the news announcing the murder of Monica during the lunchtime bulletin on Citizen TV on Saturday last week. It is not clear whether she was aware that her fiancé might have been involved in the death of the 28-year old Monica.
Yesterday's turn of events came after homicide detectives recovered a gun they believe was used by Irungu in a house neighbouring Maribe's in an estate in Langata.
The gun, which was found in the possession of a Mr Brian Kasaine was taken for ballistic tests to determine if it is related to a bullet that was discovered under Maribe's bed on Monday.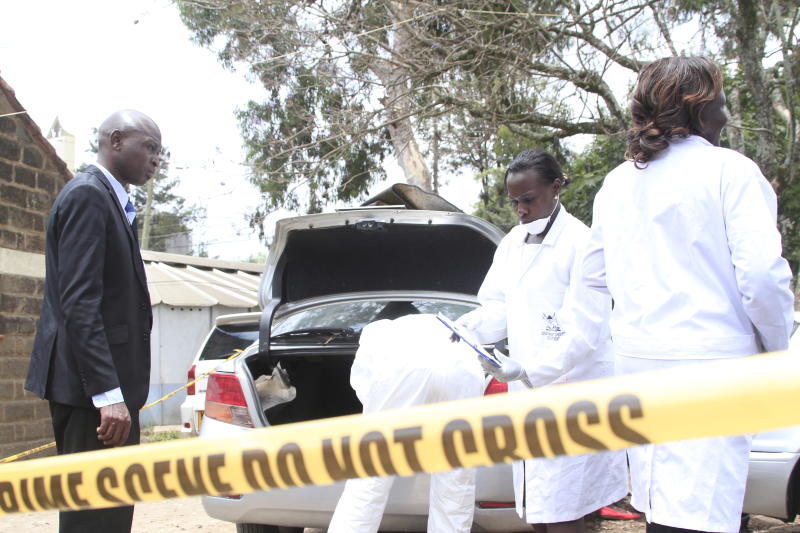 Found charred clothes
Detectives also found charred clothes behind Maribe's house which have been taken for forensic tests to determine if they are the ones Irungu had worn on the day Monica was killed.
The TV star's fiancé has been unable to provide the police with the clothes he was wearing when he was allegedly shot outside the gate of Royal Park estate where Maribe lives. In addition, the white robe he was wearing when he was spotted visiting Monica has not been found.
Sources at the Directorate of Criminal Investigations (DCI) have intimated to the Sunday Standard that detectives are unconvinced with Maribe's explanation that she does not know how a single live bullet ended up under her bed.
It also emerged that Monica had never worked at the Kenyan Embassy in Juba as claimed by her family and that her suspected murderer, Irungu is a pastor's child just like her.
Why a preacher's son is suspected to have killed a preacher's daughter who like him had a high-flying lifestyle is a question that no one has an answer to, yet.
However among the charges the state wants to prefer against Ms Maribe is illegal possession of ammunition. This is besides being an accomplice to murder.
And if ballistic tests confirm that the pistol found yesterday matches the bullet discovered in Maribe's house then she will also be charged with unlawful possession of a firearm.
"If any person purchases, acquires or has in his possession any firearm or ammunition without holding a firearm certificate is liable to a sentence of not less than seven years and not more than 15 years," says Chapter 63 of the Laws of Kenya which is the Penal Code.
Ms Maribe was for the better part of yesterday questioned at the DCI headquarters on Kiambu Road. Having lost patience with her, a call was made to turn her from a witness to a suspect.
Also questioned is Maribe's househelp and medical staff at Nairobi West, Kijabe and Langata hospitals where Maribe and Irungu had said they went to seek treatment after he was allegedly shot on the night Monica was murdered.
It is also said that a hand bag thought to belong to Monica had been found in Maribe's house.
"There is so much that is out there on social media but so far there is no reason to worry," Maribe's lawyer Katwa Kigen said.
"The police have been very frank with me and if there are any changes they will inform me. So far I have assurances that an arrest is not on the table but of course it is not a guarantee. I believe she will be coming out in a short while," he said moments before the tables turned.
Kigen could not however explain why his client was being repeatedly summoned to record statements insisting that she is innocent.
"Maybe it is their style of investigation. I wouldn't really say she knows much," he said. "Maribe is just there to clarify some issues. To the best of my knowledge, the police are not interested in her in the adverse sense they are only interested in her assisting in the investigations against Joseph Irungu."
Even as the lawyer was saying that his client was just clarifying matters, Director of Criminal Investigations George Kinoti was issuing a statement to the contrary.
"She is now in custody as a suspect in the murder," Mr Kinoti said soon after Maribe was whisked to Gigiri Police Station where she will be detained until Monday. "We have sufficient evidence to charge her. She will be in court on Monday."
But even as things rolled on at the DCI, more were unfolding on social media with Monica's Facebook page which was a personal canvas of her high flying enviable life disappearing. At the same time Joseph Irungu's Instagram page which we reported yesterday that had been privatised suddenly became public.
How a dead person deleted their Facebook page and another behind bars got control of his Instagram account are the newest mysteries in Monica's murder whose mystery deepens every day.
In Buruburu, neighbours told the Sunday Standard that Irungu had moved out of house number 415 in Lacet Court, Buchuma Road where he had been living with three other people.
The new tenant, a Mr Eric is a friend to Irungu and his three former house mates.
Residents of Lacet Court said they knew Irungu as a police officer for all the years he lived there.
"He was a police officer. That is not just what he told us but he acted like one. Just ask anyone around here because we all feared him," said a neighbour.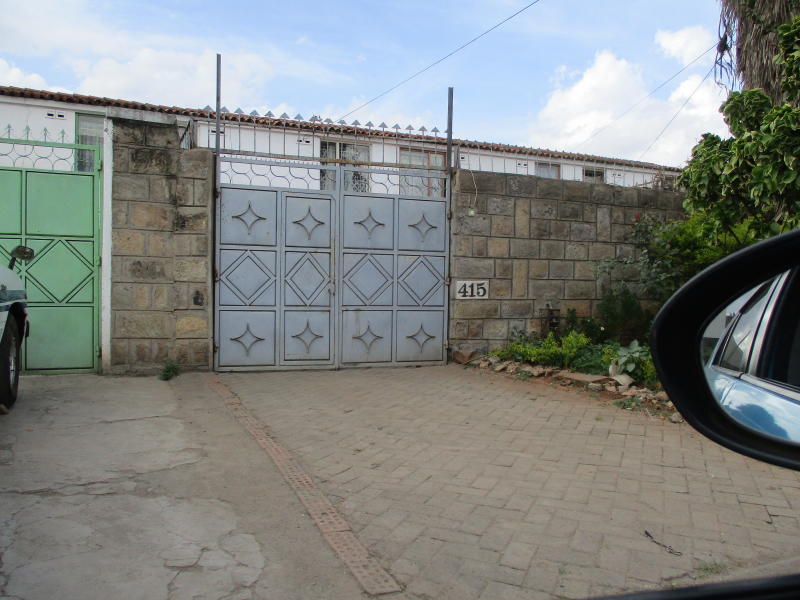 We were unable to trace Irungu's family in Nakuru and calls to his brother and sister were unanswered. But it has emerged that they live in Racecourse Estate and Irungu attended Karol Academy where he was an active member of the drama club.
To fight drought, involve communities
According to the latest information from the Meteorological Department, rainfall will be poorly distributed in April, May and June, and this will have a serious impact on agriculture