DPP asks court to lift orders blocking him from charging DCJ Mwilu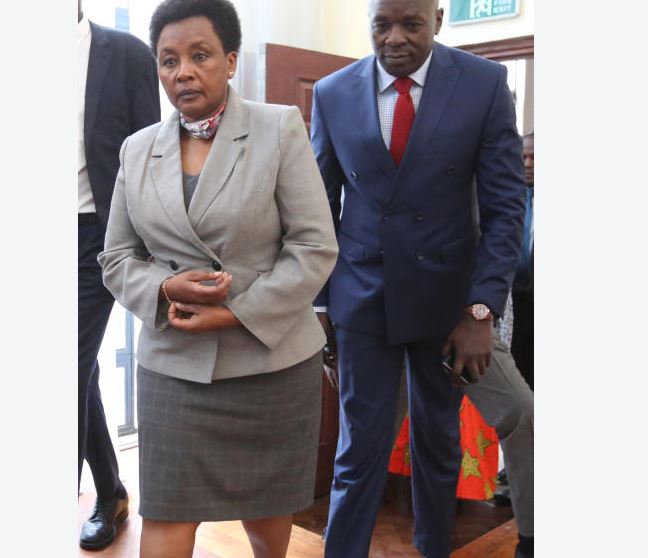 The public prosecutor has launched a fresh attempt to prosecute the deputy chief justice.
The Office of the Director of Public Prosecutions (ODPP) yesterday made another application to have High Court orders that stopped the charging of Justice Philomena Mwilu lifted, stating that the office was not given a chance to argue against them.
Faulting the orders issued by High Court Judge Chacha Mwita, ODPP argued that Justice Mwilu's lawyer was issued similar orders without arguing his case on merit.
"The applicant herein was denied a chance to ventilate his response on the application for conservatory orders and he will suffer substantial prejudice should the petition be heard before the issue of conservatory orders is addressed inter partes," argued Lilian Obuo, a senior director of public prosecutions.
She added: "This court be pleased to discharge, vary and/or set aside the interim conservatory orders staying the criminal proceedings against the interested party pending before the Chief Magistrate's Court."
Case mention
According to Ms Obuo, the court will be unfair if it extends the orders when the case is mentioned on October 9 without giving ODPP a chance to explain the decision to prosecute Mwilu.
The prosecution also wants the case file transferred from the Constitutional Court to an anti-corruption court.
"To ensure consistency and judicial harmony, it is in the best interest of justice that this matter be heard and determined before the Anti-Corruption and Economic Crimes Division of the High Court," Obuo argued.
She urged the court to allow ODPP to file responses to Justice Mwilu's application for temporary orders.
According to Obuo, Article 157 of the Constitution allows ODPP to prosecute any person within the Kenyan territory.
"The article leaves no doubt as to the DPP's powers to institute proceedings against the petitioner (Justice Mwilu) and the interested party (Stanley Kiima)," stated the prosecutor.
In her application to stop her prosecution, Justice Mwilu had attributed the charges pressed against her to, among others, the Supreme Court's ruling that nullified the results of the August 8, 2017 presidential election.