Police hold woman for chopping man's organ, burning him with acid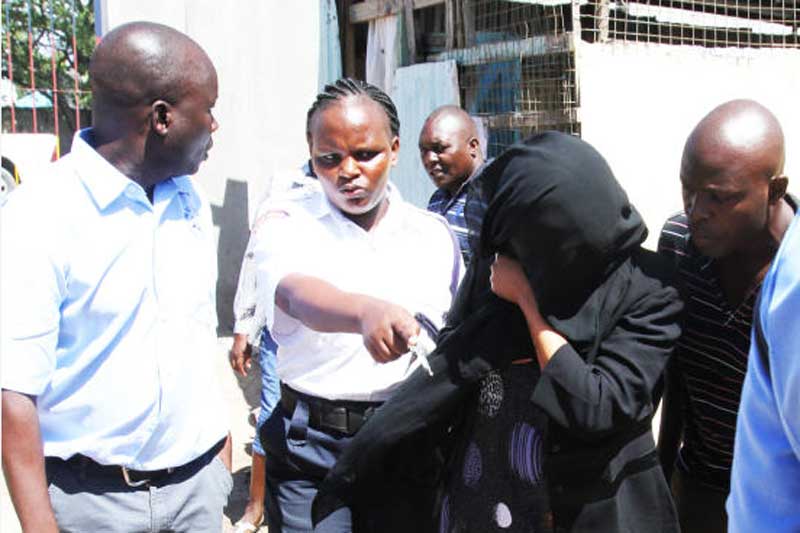 A woman who police claim chopped off her lover's manhood and doused his face in acid before fleeing has been arrested in Kwale.
The woman is being held by police to assist in investigations over the alleged assault on David Kyande in Kinoo, Kiambu, last week.
Police claim that after the incident, the woman fled to the Coast where she attempted to change her identity and started dressing in full hijab.
It is believed that she sneaked into Kwale with two male accomplices, acquired a new Identity and attempted to secure a job at Tandoori Bar in Diani on Friday, when she was arrested and detained at Makupa Police Station in Mombasa.
One of the male accomplices has already been arrested, according to police.
It emerged that the woman is a secondary school teacher in a Nairobi school and had even obtained a new cell phone number after being assisted to do so by a man she met in Diani.
Documents seen by Sunday Standard, which she had allegedly presented to secure employment, read that she had previously worked at Lollipop Club (Mtwapa), Duos Wines & Spirits (Leisure) as Mpesa agent as well as Scratch Bar & Lodge, Nairobi.
We could, however, not confirm the authenticity of these documents but police believe the information contained in the curriculum vitae are fake to conceal her true identity.
Yesterday, she emerged from the police station's cells clad in a flowing black dress and hid her face using a black head scarf as detectives led her to a waiting car that sped off to Nairobi, minutes before mid-day.
Police say the suspect could have drugged Kyande before cutting his manhood.
"We finally caught up with her in Diani as she prepared to do a job interview at the Tandoori Resort,'' a police officer told Sunday Standard.
She was held overnight at the Makupa Police Station before being driven by road to Nairobi in the company of the arresting detectives, who had travelled from Nairobi.
"She must have acted in a revenge mission after their friendship took a nosedive,'' police said.
Police sources further indicated that after chopping the victim's manhood, she threw the organ into a toilet.
"Doctors appear to be in a dilemma as to how to go about fixing the man's penis onto his body,'' police sources added.
Kyande is admitted in critical condition at the Kenyatta National Hospital.
The woman and her accomplice will be charged in court tomorrow.
Ex-Education PS Godia dies
Former Education PS Prof George Godia dies at his home in Nairobi after short illness; he also served as Kenya's ambassador to Unesco.