Governor Korane denies knowledge of shooting of ex-Garissa official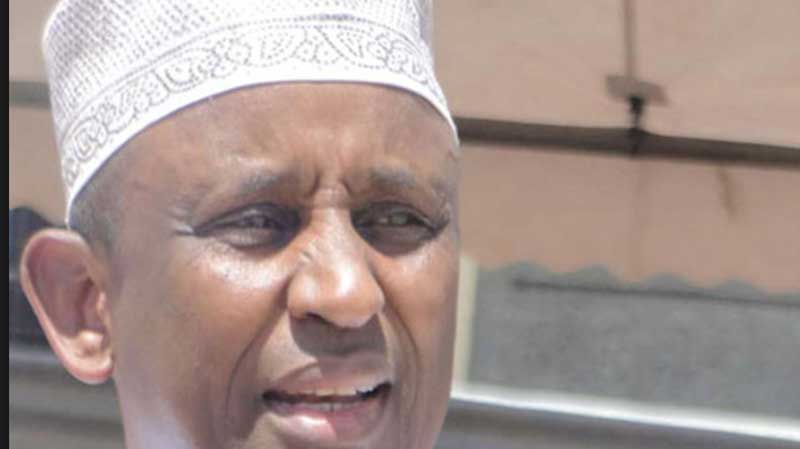 Garissa Governor Ali Korane has for the first time spoken over the shooting of the ex-County CEC Idriss Mukhtar.
He termed as unfortunate, the incident in which the ex-finance official was on August 19 shot and seriously wounded in the head in Kileleshwa, Nairobi.
Korane denied claims he participated in the incident.
"I never and would never do that. It is an unfortunate incident and we want police to independently carry out their investigations for the truth to come out. We are equally shocked with the developments into this saga," he said.
He said he is ready to cooperate with police in their probe.
Korane said he learnt of the shooting on August 20, a day after the incident and he immediately sent money to cater for the hospital bills.
He said Mukhtar is his relative and is actively involved in efforts to ensure he recovers fast.
"We have sent scans to UK and USA for experts to advise us on the way forward. If and when he would be required to be evacuated for further attention I will be ready to help," he added.
The governor said since the incident happened there have been many inaccurate reports on those who possibly participated in the attack.
This he added has injured his reputation at large.
"We are interested in truth and I believe the team handling the incident will tell the truth."
Korane said he had met Mukhtar two weeks before his shooting to discuss about finances the county owed him.
"He came to my office and we agreed we would pay him and three others the Sh53 mullion that the county owes him. We talked jovially."
The governor said Mukhtar participated in his campaigns in the last election in which he won and that the victim is his relative.
Korane denied claims that Mukhtar was probing his academic papers and planned to lodge a case in court to challenge his election.
"The only body that can cancel one's election is a court. We went through the courts following a petition and we were cleared. I am not bothered by if any such claims are there and I don't think they are there," said Korane.
Korane said he was summoned and questioned by police over the incident and that he told them he knew nothing over the same.
"I told them I learnt of it later just as anyone else and I am ready to go back there for a further statement if and when required. We want independent, credible and reliable probe into this issue," he added.
He added he did not know David Mwai, the prime suspect into the incident who allegedly committed suicide while in custody at the Parklands police cells.
"I don't know him. I don't know any of those mentioned there and I don't know how I came into the saga."
Mwau allegedly committed suicide on Thursday in an incident that has caused uproar.
The family of Mwai says police had asked their kin to agree to be allowed to escape from lawful custody.
The family said Mwai had called them to reveal a plot by police to secretly release him.
Mwai's sister Esther Wanjiru revealed how the deceased had called her on Wednesday morning to seek her advise on a proposal that had been put to him.
"He called through a number saying a police officer had approached him and asked him to agree to escape from the cells. He wanted to know what my take was on this."
"I advised him against agreeing to the request because he had confessed to his actions in regard to the Garissa official and it would expose him to more dangers," said Ms Wanjiru.
Senior police officers and human rights organisations visited the station yesterday as part of the probe into the incident.
Mwai is the one who pulled the trigger on Mukhtar critically injuring him outside a mosque.
He and six others had been remanded at separate police cells as police went on with the investigations into the incident.
This came as police recovered Sh400,000 from suspects in the shooting of Mukhtar.
The money was part of the Sh2.4 million that had been given out by a financier to facilitate the killing of Mukhtar and his lawyer to stop their mission.
Investigators recovered the money from the boot of a car belonging to a former soldier who is at the centre of the saga.
Mukhtar was shot in the head and seriously wounded. He is still admitted in hospital following the August 19 incident at Kileleshwa, Nairobi.
It has also emerged the gang behind the shooting planned to eliminate lawyer Charles Kanjama. Kanjama is a lawyer to Mukhtar.
Mwai and Njoki visited Kanjama's office twice as part of recce mission ahead of their planned attack.