Revealed: Strange police offer to hitman before his death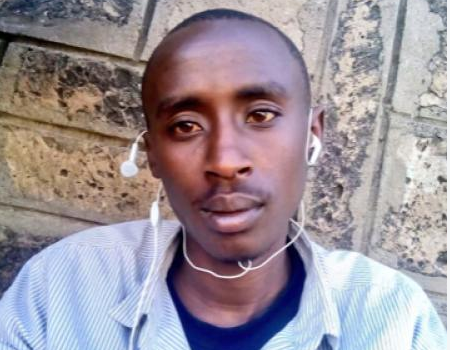 A governor, a woman, a lawyer and a dead hit-man are currently embroiled in a macabre dance of a killing gone wrong in what is quickly shaping up to be one of the most intriguing crimes of our time, with money at the centre of it all.
Probe into the attempted murder of former Garissa County Finance Executive Idriss Mukhtar were dealt a blow after a key suspect in the case and self confessed shooter, David Wanjiru Mwai, was found dead in his police cell in what appears to be a well calculated cover-up of the attempted killing.
The Saturday Standard has unearthed a treasure trove of information that points at possible state involvement, collusion of those who had been entrusted with the suspect's life and an attempt at luring Mwai, alias Mwas, from state custody just hours before he was found dead in his cell.
New information also shows that detectives investigating the matter were pulled off the case the day Mwai died under unclear circumstances, further pointing to the bloody plot that has culminated in the death of a suspect, a victim fighting for his life at a Nairobi hospital and a governor caught in the middle of the saga.
And now, Mwai's family claims that the police had offered their kin an escape from lawful custody to jam the case.
Mwai's sister, whose identity has been protected by the Saturday Standard, says his brother called her on Wednesday morning to seek her advice on a proposal that had been put to him. She says he 'committed suicide' after they realised he had informed the family of their plan.
"He called through a number saying a police officer had approached him and asked him to agree to escape from the cells. He wanted to know what my take was on this," she said. "I advised him against agreeing to the request because he had confessed to his actions. I told him this would expose him to more danger."
That was on Wednesday at 2pm after a magistrate had visited Mwai in the cells for a confession and to allow the police to hold him. Mwai's wife Hajila is also missing since Monday when the six suspects were arrested. Her phone number is not going through and the family has visited several police stations but she has not been found.
Whereabouts of his wife
"Every time Mwai called me he wanted to know the whereabouts of his wife but we can't get her," said Mwai's sister.
Mwai, who hailed from Chokaa and ran a video game arcade, was picked up from Dandora on Monday by police in several saloon cars. The key suspect in the attempted murder was a father of two children aged two and three. He was the only son in a family of three.
After being arrested they were initially taken to Kilimani Police Station before being transferred to Parklands. And by yesterday the police were unable to explain how a person was able to hang himself in a cell filled with other people and during the day. Internal police communication seen by the Saturday Standard shows the incident entered on the Parklands Police Station Occurrence Book number 32/30/8/2018 says Mwai had tried to hang himself by using one of the pipes that connect to a toilet water tank.
This was at 12.18pm on Thursday as reported by a constable Kennedy Njuguna and Sikukuu Galgalo who were manning the report desk located just next to the cells.
"The OCS, Moses Shikuku, Inspector Mary Nderitu and other officers rushed to the cell and found constable Njuguna trying to save the victim," says the communique.
"He had hang on one of the pipes on the metallic water tank in the cell's toilet using a clothing material. He showed signs of breathing and was rushed immediately to the MP Shah Hospital where doctors attempted resuscitation but he died in the process," it says.
Still many questions remain unanswered; like who would want a lead suspect in a murder case dead? We have reliably established that although the six suspects in the case who are being held at Parklands Police Station are in separate cells, none of them is entirely alone.
There were three other suspects in the cell where Mwai allegedly hanged himself, including a foreigner.
They are the ones who alerted two police officers of the incident long after it had happened. It is also standard procedure for the police to make sure they store away any item on you that can be used as a weapon, including all metallic objects, shoe laces and belts before booking you in a cell.
With the person who admitted to have pulled the trigger now dead and the one who was to be killed in a coma, the new team formed by the Director of Criminal Investigations (DCI) to probe the attempted homicide have their hands full.
DCI George Kinoti, we have learnt, has directed the matter to be investigated from his office on Kiambu Road where he can monitor it closely. Those in the know say there will be a fresh round of questioning for all those who witnessed and are considered as suspects in the case.
No issues
Garrisa Governor Ali Korane yesterday distanced himself from the matter, saying he had no issues with Mukhtar who is fighting for his life at Nairobi Hospital. Korane said he is even part of the people trying to assist Mukhtar to get treatment.
"I have never in my life imagined getting in a plan to eliminate anyone but this matter has been heavily politicised," he said. "The drama this unfortunate incident has generated has created an environment where it would be difficult for the matter to reach its logical conclusion but you can never hide the truth forever."
We learnt Mukhtar and Korane had met at the governor's office at Chania road in Nairobi two weeks before he was shot. He had gone to discuss with the governor a payment plan on how some Sh53 million awarded to him and two other former CECs by the court over wrongful dismissal would be paid.
"We agreed that we would pay the first tranche of the money immediately national government releases money for the first quarter to us, which was to happen in three weeks," said Korane.
Mukhtar had on several occasions complained of threats to his life to police. He shared his statement in which he named possible suspects behind the threats with his lawyers.