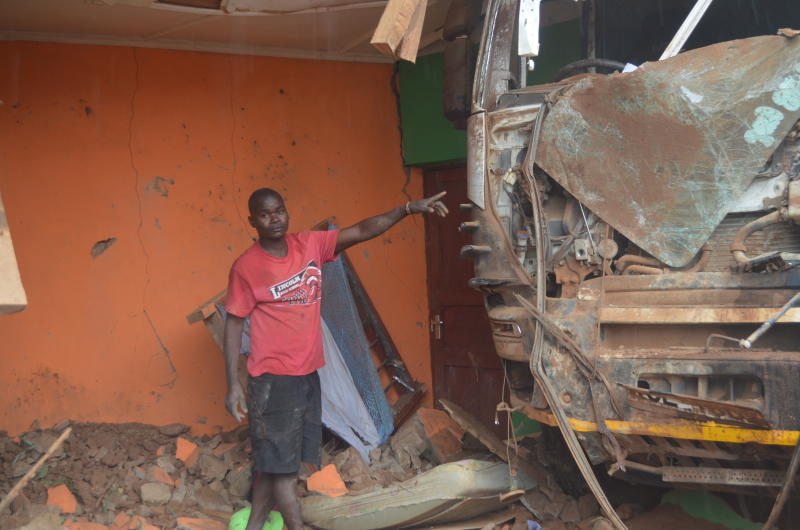 A young man from Chanagende village in Kaloleni Constituency on Saturday escaped death by a whisker when a lorry rammed into their house.
The 9.30 am incident happened after the driver of a lorry belonging to one of the Companies in Kilifi lost control and went straight to the house which is a few meters from the Kaloleni –Mavueni highway.
Confirming the incident Kaloleni OCPD Kennedy Osando said the lorry slipped off the road due slippery road following morning rains.
"The lorry was over speeding and on reaching at this corner it lost control and rammed into the house," The OCPD said.
Speaking to the Standard Amani Kahindi, 27, said he heard a loud bang while outside side of the house preparing to cook tea.
"I was coming from the shop and I had just put down whatever I had bought for breakfast. I was now preparing the fire when I heard a loud bang at the back of the house .I rushed to see where the bang was coming from and found the lorry already inside the house.I just stared," said Kahindi who was terrified by the sudden incident.
Kahindi said the driver was still in the lorry which had broken the wall to his brother's bedroom destroying all the properties in the room.
"As I approached the lorry I heard the driver calling for help, I opened the door and he came out. He had injures on the head and was having scratches on the face. He was bleeding. One of my brothers took him to hospital," he said.
Kahindi said the house belonged to his brother who had left early in the morning to go to work
"This is a miracle because my brother sleeps in that bedroom and he had left to go for work. This house new and it is only few months old and so he has not used it, he is not even married. Maybe I could be dead if I was in the house also," he said.
Eyewitness say the empty lorry was heading Kaloleni from Mavueni.