Kenya Power top managers face prosecution over Sh759 million fraud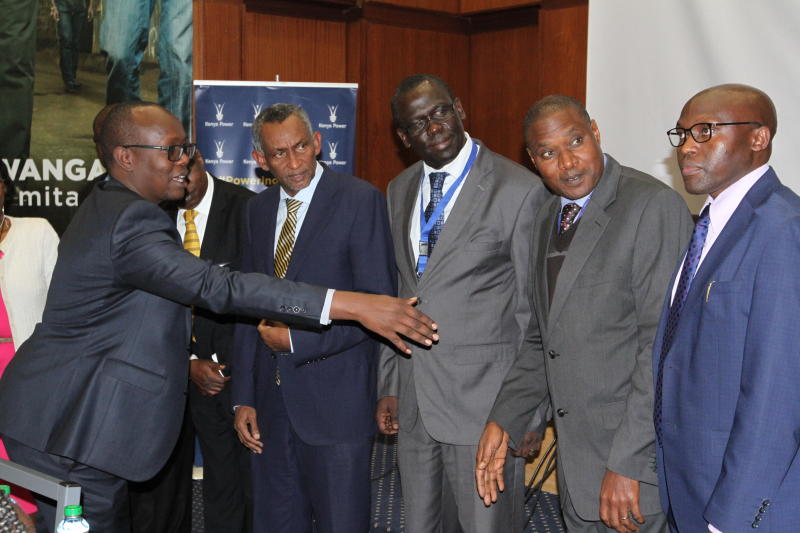 Kenya Power bosses spent the fourth night in police custody away from their palatial homes and office comfort as they await a decision of their bail application in relation with corruption charges.
The firm's managing director and CEO Ken Tarus, his predecessor Ben Chumo and nine senior managers at the utility company, were arraigned in court in connection with the procurement of substandard transformers worth over Sh409 million.
The other top officials charged were Commercial Services Manager KP Mungai, Finance Manager Joshua Mutua, ICT Manager Abubakar Swaleh, Regional Coordination Manager Samuel Ndirangu and Supply Chain Manager Stanley Mutwiri.
Also charged were a couple James Njenga Muingai and Grace Wanjira Muingai, and their son John Muingai who are directors of Muwa Trading Company Ltd, said to have received millions of shillings for supplying sub-standard transformers.
Mr Tarus gave up the comfort of his six-bedroom house in posh Nyari Estate in Nairobi for a cold night at Gigiri Police Station.
Mr Chumo, too, for the fourth night, was not enjoying the warmth of his mansion at the leafy suburb of Muthaiga North as he was ushered into the cells at the police station.
Relatives were reportedly scrambling to buy new blankets and warm clothing for scores of the accused as it dawned on them that they wouldn't be coming home yet.
In the first count they, were charged with conspiracy to commit an offence of economic crime where it is alleged that they fraudulently acquired public property between August 2012 and June 2018 at KPLC.
"On diverse dates you conspired to fraudulently acquire $4,081,920 (Sh408 million) from KPLC for supply of transformers by Muwa Trading Company Limited" read the charge sheet.
In count two, the suspects were charged with aiding the commission of a felony by helping the directors of Muwa Trading Company Limited to acquire $2,014,880 (Sh201 million) as payment for the supply of substandard transformers.
They faced other charges of abuse of office and wilful failure to comply with procurement rules where it is alleged that they used their offices to facilitate the company to acquire millions of public funds for the supply of sub-standard transformers.
In another count the suspects were charged with conspiracy to defeat justice by sanctioning an out of court settlement with Muwa Trading Company in which KPLC ended up paying Sh201 million for the supply of sub-standard transformers.
In the second file, Tarus was charged alongside the Ag General Manager Finance Harun Karisa, General Manager Network Management Eng Daniel Tare, Manager Network Management Noah Omondi, and Ag General Manager Supply Chain Daniel Ochieng,
Others were Manager Labour and Transport Project Eng John Mwaura, Chief Accountant James Muriuki, and Tender Opening Committee Members Bernard Githui, and Evelyne Amondi.
They were accused of conspiracy to pay Sh159 million to companies not qualified to offer transportation services and carelessly giving out the tender without following due process.
At Muthaiga police station, where Chumo and five others had spent the previous night, their relatives had bought them six new blankets as they had complained about the cold, and yesterday they had to buy more for their new detention centre.
Their predicament was summed up by the firm's Manager for Corporate Affairs and Company Secretary Beatrice Meso who yesterday complained at the manner in which she was removed from her home in Muthaiga Estate and made to share the cold prison cells with petty offenders.
"They went to her house at 1am with 25 cars while armed with guns and did not even have female officers. They ordered her out and went to Tarus' home and humiliated him in front of his family," said lawyer Assa Nyakundi.
Tarus, Chumo and Meso were charged alongside 19 other top KPLC officials with various charges ranging from conspiracy to defraud over Sh750 million, abuse of office, wilful failure to comply with procurement rules and conferring a benefit to a company that supplied sub-standard transformers.
In another world, locking them up would have led to power outage but as fate would have it, the men and women at the helm of illuminating Kenya's homes faced pitch darkness in the corridors of justice with the possibility of facing lengthy spells in jail if found guilty of the offences.
Their predicament was worsened after anti-corruption court chief magistrate Douglas Ogoti locked them up for another night at Gigiri Police Station to await the conclusion of hearing their applications to be released on bail.
Their lawyers led by Prof Tom Ojienda pleaded with the magistrate to grant them bail, arguing that the prosecution had not presented compelling reasons to warrant their detention.
"There is nothing to suggest that any of the accused will abscond court if granted bail. The prosecutions' only ground is that they will interfere with witnesses and investigations which is not possible," said Ojienda.
They argued that the trend in which the prosecution has adopted to oppose bail in all cases was going against the rights of the accused and setting a bad precedence that can take the country back where suspects were detained at the wish of the prosecution.
The prosecution applied for a warrant of arrest of four suspects who failed to turn up at the Directorate of Criminal Investigations to record statements.
The chief magistrate adjourned the hearing for bail application to today.