Meet Fatuma Ahmed Kenya's first female Major General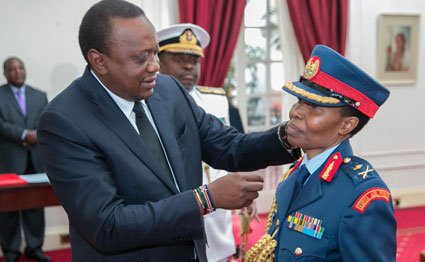 Major General Fatuma Ahmed just keeps on making history. She first grabbed the headlines in August 2015 when she was promoted to a Brigadier, a post no woman had held in the male-dominated Kenyan military.
When President Uhuru Kenyatta announced her promotion to the coveted rank of a Major-General from Brigadier today, it was yet again another first.
But who is Major Gen Ahmed?
According to a Ministry of Defence publication Maj Gen Ahmed was enlisted in the Kenya Defence Forces in 1983 and served under the Women Service Corps. She was commissioned to the rank of Second Lieutenant in 1985 and posted to the Kenya Air Force.
Some of the notable appointments in the course of her 32 years of service include:
• Battalion Second in Command (BN 2IC)
• Staff Officer II Audit Personnel and Records
• Staff Officer I Personnel and Administration
• Colonel Personnel at the Kenya Air Force Headquarters and Managing Director, Defence Forces Medical Insurance Scheme.
Maj Gen Ahmed is a graduate of the National Defence College, one of the Military Centers of Excellence, an affiliate of the University of Nairobi's Institute of Diplomacy and International Studies.
She is also an alumni of the Defence Staff College where she graduated in July 2000, in addition she holds a Diploma in Management from Strathmore University College.
President Uhuru Kenyatta announced her promotion during the swearing in of KDF generals at State House, Nairobi, adding that her appointment was an honour for the country.
"I am counting on you to be a positive role model to women in this country. Prove to them that there are no limits," a proud Uhuru said.
Other commanders who were sworn in include Lt Gen Walter Raria who was named the new Kenya army Commander, Lt Gen Robert Kibochi the new KDF Vice Chief and Major General Francis Ogolla as the Kenya Air Force Commander.
"We are grateful and thankful for the service that you have provided to this country for many years, we look forward to working with you in all capacities as we continue to work towards growing, developing and defending our nation," President Kenyatta said.?
To fight drought, involve communities
According to the latest information from the Meteorological Department, rainfall will be poorly distributed in April, May and June, and this will have a serious impact on agriculture