Services at Huduma centers paralysed over unpaid bills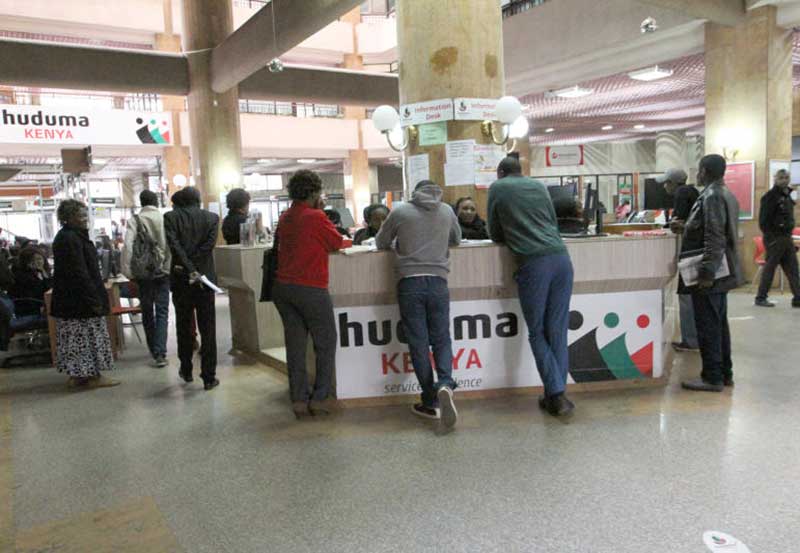 Services in 54 Huduma centres have been disrupted after suppliers withdrew their services due to unpaid bills.
The disruption came a day after the Ministry of Public Service, Youth and Gender Affairs stopped further processing and payment of over Sh5.6 billion in pending bills until suppliers' documents were verified.
On Wednesday, Cabinet Secretary Margaret Kobia said the pending bills dated back to 2013.
"For any supplier to be paid, the documents must not be questionable," said Prof Kobia.
Yesterday, Huduma Kenya Chief Executive Officer Denis Mutuku said efforts were being made to ensure that the services were restored.
"We are in talks with the ministry to sort out pending issues and restore services," said Mr Mutuku.
Among the services that have been affected are the National Hospital Insurance Fund, the Kenya Revenue Authority, My Government and utility bill payment.
Those seeking the services were turned away.
Kobia issued the directive at the National Youth Service (NYS) headquarters during the installation of a new director, Matilda Sakwa.
Pending bills
Later in the evening, Mutuku said services had been restored after a network down time.
"We are pleased to inform our customers that the network has since been restored and we have resumed smooth service delivery. We apologize for the downtime and endeavor to offer services to our customers as usual," he said in a statement.