Population of endangered hirola antelope on the decline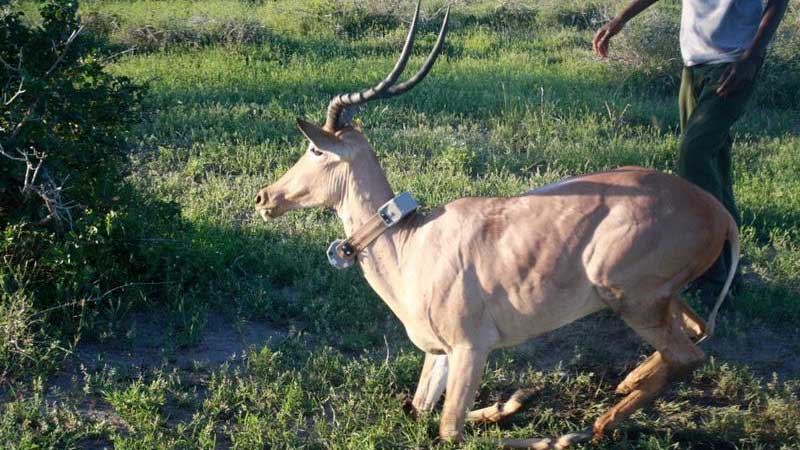 The hirola population has continued to shrink despite efforts by conservationists to save the world's rarest antelope.
Hirolas, which are found only in Kenya and Somalia, and which are considered the world's most endangered antelopes, have been plagued by disease and habitat loss.
Kenya Wildlife Service (KWS) senior research scientist Bernard Kuloba said a sanctuary established in 2012 saw the hirola population more than double to an estimated 110 animals, but that was the end of the success story.
The Ishaqbini Conservancy was set up by the Northern Rangelands Trust and the Ishaqbini Community Conservancy to provide a secure breeding population of hirola in the absence of predation, poaching and competition from livestock.
"Hirola populations continued to decline both inside the conservancy and within the adjacent outlying range lands. The last aerial survey in 2011 estimated the global population of hirolas at less than 500 individuals," Mr Kuloba said.
"However, in 2016 and early 2017, the Ishaqbini region, as with much of northern and north-eastern Kenya, witnessed a severe drought. Wildlife in the sanctuary was restricted and unable to move in search of food, and despite a supplement feeding programme, 23 hirolas died.
Larger population
The larger population of hirolas are found in Ijara and Garissa. Previous programmes to revive their numbers have been futile, for example, the establishment of Arawale National Reserve in 1973.
The reserve, which was managed by the defunct Garissa County Council in partnership with KWS, collapsed due to lack of funds as well as insecurity in the Northern Frontier.
In response, KWS set up an anti-poaching unit in 1983 solely to protect hirolas. This initiative also failed after funding dried up. It did not help matters that the unit was headquartered in Nairobi, 330 kilometres away.
Kuloba however said there was a five-year plan to reverse the antelope's declining numbers.
"The 2018-2023 recovery plan provides detailed steps to counter threats and improve the conservation status of the hirola. The overall goal is to attain positive hirola population growth by attempting to address known drivers and limiting factors, while identifying other emerging threats."
There is also a hirola conservation programme that involves conservationists working with local communities and scientists to understand how the antelope can be better managed.