Machar and Kiir expected to hold face-to-face talks in Khartoum before rebel leader returns to Juba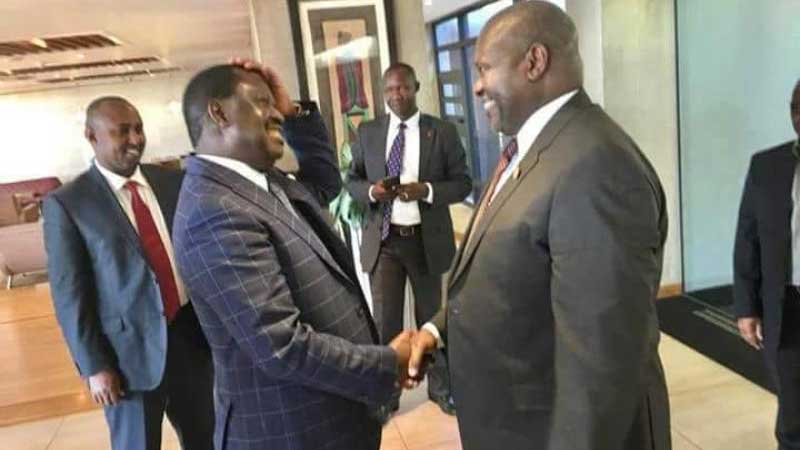 War ravaged South Sudan could be on the mend after President Salva Kiir and rebel leader Riek Machar struck a deal brokered by Opposition leader Raila Odinga.
Sources privy to the Friday meeting between Raila and Dr Machar in South Africa said the two, in consultation with Juba, agreed on bare minimums that are expected to set the stage for a meeting between the rebel leader and Kiir.
Machar, who is currently under house arrest in Pretoria, South Africa, could be released next week to head to Kenya for the final leg of talks, before a face to face meeting with Kiir in Khartoum and his eventual return home. The truce is expected to effectively end three years of conflict in Africa's youngest country.
South African President Cyril Ramaphosa, who was meant to meet Raila to discuss the situation in South Sudan, is in Canada for the G7 forum but weighed in on the discussion via satellite link.
By yesterday morning, the NASA leader was reported to have phoned President Kiir to bring him up to speed, which the latter lauded, promising to work with Machar to build the nation. "The meeting went very well. We are optimistic that the two leaders (Kiir and Machar) are committed to lasting peace in South Sudan. They reiterated that African issues are best solved by their leaders and Raila has so far remained a neutral arbitrator," said a member of the delegation, who declined to be named.
He continued: "We are on the right path. Machar is equally interested in returning home and reconciling with the president."
Raila is pushing for a handshake between the two leaders whose political competition has been the cause of civil war. The three-year conflict has led to a humanitarian crisis worsened by a crumbling economy. President Kiir told the NASA leader he had forgiven Machar and would guarantee his safety if he accepts the offer to return to Juba.
Though Raila's side has remained tight-lipped on the matter, different teams from South Sudan welcomed the breakthrough. The Intergovernmental Authority on Development (Igad) had given the two leaders a June 30 deadline within which to reach a deal.
Kiir and Ramaphosa have supported Igad's resolution for Machar to be released.
"Upon his release, he will fly to Kenya before heading to Juba. During Raila and Kiir's meeting, they agreed Machar should travel through Kenya, as preparations are underway for his grand return," another source revealed.
He added: "President Kiir is committed to this peace process. Whatever will be put on the table will be for the benefit of the South Sudanese people." Others in the delegation to South Africa include lawyer Paul Mwangi, Kenya's former ambassador to the United States Elkana Odembo and the National Assembly Minority Whip Junet Mohammed.
This is the second leg of Raila's mission to reunite the leaders after his previous meeting in Juba with Kiir.
However, a source in Juba told the Saturday Standard that Raila was roped in after President Kiir's administration felt frustrated by the slow pace of the Igad process.
Viewed as taking the role of an African statesman, the NASA leader's role gives impetus to the efforts by Africa Union (AU) to restore peace in South Sudan.
National Assembly Minority leader John Mbadi (Suba South) said: "A few of us have never appreciated who Raila actually is. The value attached to him elsewhere on the continent is higher than what we imagine."
The Machar meeting comes after Raila held 7-hour talks with Kiir on May 24 in Juba where they discussed ways of restoring peace following the outbreak of civil war in December 2013.
South Sudan Information minister Michael Makuei said: "The first and most important thing is for Machar to denounce violence. Some of the proposals the opposition has presented are almost impossible to implement, and they don't in any way amount to reaching peace soon. Raila should actually work to soften the position of the opposition," said Makuei.