Demonstrators petition parliament and president over Coal plants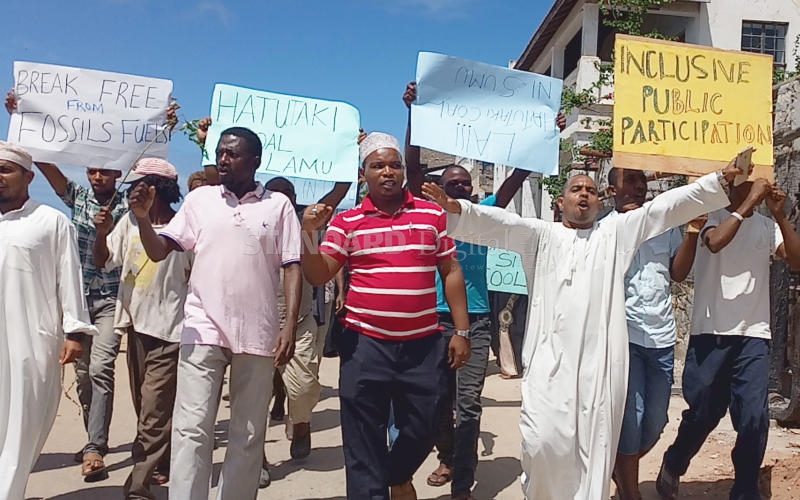 Protesters yesterday petitioned the Government to suspend the planned coal mining in Lamu and Kitui counties, citing environmental threat.
Lamu coal power plant is a project by Amu Power Company, expected to generate 1,050 megawatts of electricity.
To mark the World Environmental Day, protesters marched yesterday from Freedom Corner at Uhuru Park to Parliament Buildings and later Office of the President where they presented their petitions.
They said the coal plant project would harm the environment, with long-term effects on locals, especially those living in the two counties where the exploration would be undertaken.
Feisar Miji, the spokesperson of the demonstrators, said the project would pose a health risk to Lamu residents.
"China has a hand in the deal and yet their country is getting rid of such hazardous explorations. Why are our leaders supporting the project? They are compromised," claimed Miji.
Political support
Jane Mulwa, one of the demonstrators, said she had travelled to Nairobi from Kitui to join the protest against coal mining in the county.
However, despite the opposition, the project has received political support, with the National Assembly Committee on Energy claiming the coal production would be safe.
Kitui Governor Charity Ngilu also backs the project.
Earlier, Deputy President William Ruto had accused some Lamu leaders of inciting the locals to oppose the coal mining project.
Meanwhile, four US senators have written to the African Development Bank to oppose the project.
They wrote to the bank on May 28, stating that Kenya had emerged as an undisputed leader in clean and renewable energy in Africa, and those gains should not be lost.
Those who signed the letter are Jeffrey Merkley, Brian Schatz, Bernard Sanders and Edward Markey.