Construction of police referral hospital to begin in October, says IG Boinnet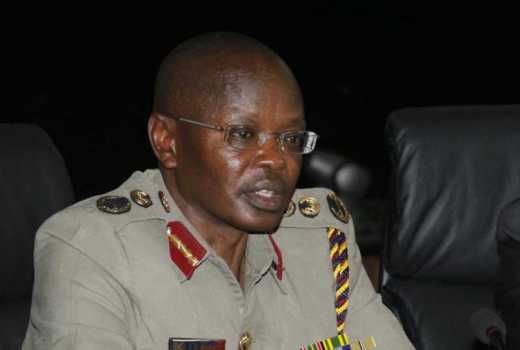 The construction of the planned National Police Service 300-bed referral hospital to cater for both serving and retired officers is set to begin in October 2018.
NPS has requested for expression of interest for the construction of the Level Six hospital to be located near Kenyatta National Hospital.
In an advert appearing in The Standard on Tuesday, the service said the main objective of the project is for the police officers and their families to access quality, accessible and affordable healthcare.
"The National Police Service intends to commence construction of the National Police Referral Hospital which is a key Government priority project on a piece of land within the Kenyatta National Hospital as approved by the Cabinet," said part of the advert.
The construction which will be done through the Government grant and soft loan funding will incorporate supply of medical equipment and hospital information system (installation and three years of maintenance), paperless/modern technology hospital, forensic laboratory, doping test facility and first class emergency centre.
The hospital will also have a VIP suite, mortuary, training and education both locally and overseas, operation and maintenance support, according to the advert.
"The NPS now invites eligible firms with proven track record and performance of similar assignments to indicate their interest in providing the service on design, build and transfer basis including proposal of funding the project," added the request.
Those interested should drop their bids by June 20, 2018 at Jogoo House.
Boinnet had earlier said the facility will be operational in two years.
A land near the Inland Container Depot (ICD), which had been identified for the construction of the hospital, was taken by the Standard Gauge Railway (SGR), hence delaying the project.
The plan has been shelved for many years but the police boss assured his officers that it was all systems go.
Most officers injured in the line of duty are usually airlifted to Defence Forces Memorial Hospital in Nairobi for specialized treatment while others are taken to the Kenyatta National Hospital (KNH) and the Nairobi West hospital.
Other officials said the recruitment of doctors, nurses and support staff late next year.
In February this year, President Uhuru said the construction of the facility was part of modernization programmes he had announced.
"The modernization programme we have undertaken – and which continues in my administration's second term – prepares the Service to meet both the security challenges Kenya face today and those we can expect tomorrow," the president said.
Another notable move includes channeling of Sh1 billion to the Directorate of Criminal Investigations (DCI), in a bid to enhance its capacity to fight cybercrime.
The funds will be transferred from the Communication Authority of Kenya universal fund to the DCI.
The civil-works portion of the forensic laboratory at the Directorate of Criminal Investigations (DCI) Headquarters is complete and only awaits be equipped, for it to be operational.