Wanted: Police place Sh1m bounty on man helping terrorists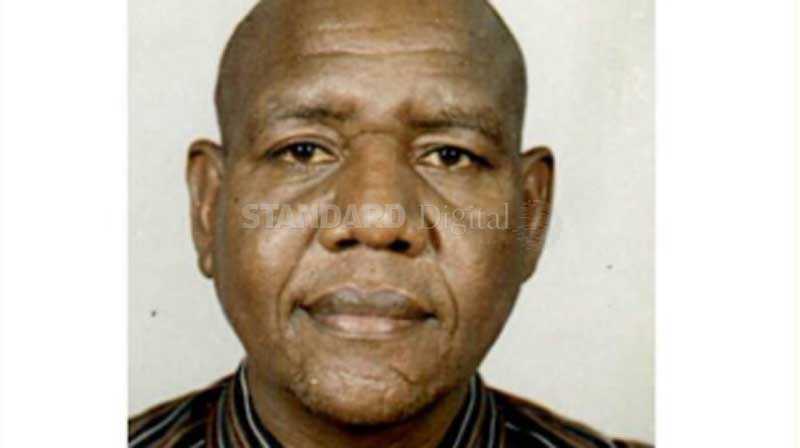 Police have offered a Sh 1 million cash reward for anyone who will offer information leading to the arrest of a suspected terrorist facilitator, Francis Macharia Kirashu.
Police claim Kirashu has been aiding terror suspects crossing into the country, mostly from Somalia, by printing fake identity cards for them.
Spokesman Charles Owino said the suspect, who operates a business at a building located along Nairobi's Luthuli Avenue from where his accomplices were arrested, is also said to be engaged in printing of fake title deeds, birth certificates, and academic papers.
"Kirashu's (alleged) accomplices in the fake document syndicate – Lydiah Nyawira Mburu and John Maina Kiarii have since been arrested and charged with forgery of official documents contrary to section 351 of the Penal Code and facilitating activities of terrorist groups contrary to section 9 (1) of the Prevention of Terrorism Act (20120)," Owino said.
Kirashu, according to Owino, is said to have processed four fake Kenyan identity cards – two of which were used by terror suspects arrested in Meriti, Isiolo in February – while readying to stage a Vehicle-Borne Improvised Explosive Device (VBIED) attack in Nairobi.
Abdimajit Hassan Adan and Mohamed Nane used the fake documents to cross into Kenya from neighbouring Somali.
Some 1,199 bullets, 36 unprimed hand grenades, 18 Improvised Explosive Devices and five AK 47 rifles were recovered from an SUV and four other suspects are in custody from the sting operation on February 15, 2018.
There were also three military knives in the vehicle that the terrorists planned to use in their attacks.
Police also recovered several SIM cards and mobile phones, a black flag and other paraphernalia associated with Al-Shabaab militia groups, motorcycle and ignition keys from the suspects.
The recovery took place in a remote area, almost 200 kilometers from Isiolo Town.
The VBIED had been built into the car and were ready for detonation
Five suspects accused of planning to bomb a court to rescue the radical cleric have been charged with terrorism-related offences.
Adan, Nane, John Maina, Antony Kitila alias Rasta, and Lydia Nyawira denied nine counts of terrorism charges.
According to the investigators, the accused were arrested on February 15, 2018, while on a mission to attack the Milimani law courts on February 16, the day Muslim cleric Guyo Gorsa was scheduled to be arraigned to take a plea — also on terrorism-related charges.
The five were charged that on February 15, within and outside the Republic of Kenya and jointly with others not before court, conspired to carry out a terrorist attack.
They embedded explosives in a vehicle, KBM 200D, turning it into a car bomb, the charge read.
The court heard that Kitila engaged in taxi business through the online platform of Uber to cover up his criminal plans and was deeply involved in acquiring vehicles, including a Vehicle-Borne Improvised Explosive Device.
Katila is charged with providing support to al Shabaab by acquiring motor vehicle KBM 200D on January 17 last year at Fortis Limited in Lavington, Nairobi, to have it used as Vehicle-Borne Improvised Explosive Device. He is also charged with dealing with a vehicle, KBE 449M Honda, owned by al Shabaab on January 17 this year at Lucky Summer, Nairobi.
Adan and Nane were separately charged that on February 15 in Merti subcounty in Isiolo county they were found in possession of Improvised Explosive Devices — seven projectile bombs with an intention to commit a terrorist act.
The pair faced another charge that on February 15 in Merti, they were found being members of al Shabaab. During their arrests, police recovered five AK 47 rifles, 36 loaded magazines, one magazine with 22 bullets, one empty magazine, 36 hand grenades, 18 IEDs, three military knives and a black Al Shabaab flag.
Maina and Nyawira were separately charged that on January 18 in Nairobi jointly with others not before court forged an ID card bearing the names of Jirma Huka Galgalo (deceased) — a former member of al Shabaab — to be used during the attack.
Police say investigations and interviews with the suspects linked many phone numbers of persons believed to be part of the plot.
The recovery was described as a milestone in anti terror operations in the country. It's the second such recovery after that of 2014 in Mombasa where another VBIED were seized from a suspect who had arrived from Somalia ready to detonate. The suspects targeted the ferry then.