Alliance couple: Matiba and Edith's love brewed in the Valley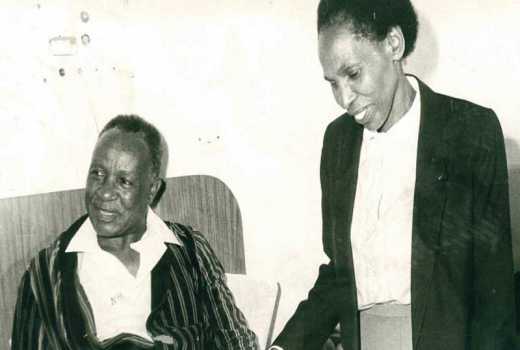 The wooded valley was supposed to keep the girls away from boys. Pious missionaries dedicated all their energies to ensure that there was respectable distance between the students from the two neighbouring schools.
However every Sunday, some romantic souls would troop from opposing directions and congregate in the valley where, amid the chirping of birds, oaths would be taken and life-long commitments made.
It was not the intention of the missionaries and no-nonsense teachers -- who would not think twice before punishing the budding academicians -- to let them be distracted by the fluttering of hearts fueled by romantic fantasies.
However it is in this same valley which still stands between Alliance Schools where friendships which would stand the test of time were formed.
One of the students who was at Alliance Girls at the time was Edith Gitau, the daughter of Musa Gitau, the legendary church minister who had taught a barefooted Jomo Kenyatta at Mambere School in Kikuyu. Musa would be blacklisted by the Mau Mau for opposing female circumcision.
Musa was one of the most prominent clerics of his time for he not only resisted the African Independent churches (which advocated for female circumcision) but also opposed Mau Mau.
He had started as a teacher at Mambere, which is today named after him, where he taught Kenyatta, James Gichuru and other notable cabinet ministers before he became a church minister.
Alliance Girls was by then called African Girls High School and was next to Alliance High School where Kenneth Matiba and Kimani Wanyoike were students.
"Matiba was one class ahead of me at Alliance but I had been schooling with Edith at Mambere. It was memorable class because of another classmate, Kihika Kimani," says Wanyoike.
Romantic getaways
Kihika was the cantankerous MP who served in various constituencies in Nakuru and Laikipia districts. He earned his notroriety in 1970s as a member of Gikuyu Embu Meru Association when he championed the Change the Constitution Debate that was caculated to deny Daniel Arap Moi the presidency.
According to Wa Nyoike, at Mambere, Edith distinguished herself with her brilliance and Kihika was known for his leadership skills although he also had a penchant for pranks.
He was also "an activist" in many ways and this may explain why he went into politics.
Wa Nyoike too remembers the romantic getaways to the 'valley between' where they would venture on Sundays to chat with their girls.
Generally people met at the valley where letters too were exchanged. If for some reason a boy failed to come, his message would be delivered to his girl and vice versa.
The clandestine meetings were however ended in 1953 after the colonial government moved the girls from Alliance to Machakos.
Wa Nyoike says this was done after the Mau Mau freedom fighters wrote to the government that they had the intention of invading the school and abducting the girls so that they could be circumcised
Reverend Timothy Njoya recalls that these were turbulent times for girls who had refused to be circumcised at a time when the Mau Mau was waging a bloody war against everything symbolising the white man or the missionary.
"The Mau Mau were brutal against those allied with whites and missionaries.
"I know of about ten girls who were killed for refusing to be circumcised in my home area in Mukurweini. One of the women was my aunt, Wambura Karanga," Njoya explains.
Independent schools
It is against this background that the Mau Mau wrote to the colonial governor and declared they were going to attack Alliance Girls and abduct the girls who would then be forcefully circumcised.
Besides the hostility of the government towards independent schools which supported the Mau Mau, the freedom fighters were appalled by the girls' refusal to undergo female circumcision, a ritual they said was promoting moral decay.
"As a result of the panic generated by the letter, the girls were relocated to Machakos and that is where I met my future wife Wairimu.
"By then, I was a student at Machakos High School and later I joined Alliance where I met Matiba," Wa Nyoike says.
On Sundays, the girls who were not sharing a compound with the boys in Machakos would be allowed to go to church at the Anglican Church in Machakos. At times, they were sent to nearby churches to teach Sunday school children.
This was how the relationship between Wa Nyoike and Wairimu blossomed. The students, he says, stayed in Machakos for three months as the government fortified Alliance Girls to thwart Mau Mau's threats.
At that time, the freedom fighters were unhappy with the government for closing down all the independent schools and seizing their assets which were distributed to mission schools.
State of Emergency
Githunguri Teachers College which was the crucible of the independent teachers was razed to the ground by the colonial government and all its equipment and text books distributed to other missionary schools.
It was at Alliance where Matiba met Edith. The State of Emergency had made it impossible for him to travel to his home in Murang'a so he spent his time in Kikuyu and the relationship with Musa Gitau's daughter blossomed.
They were married in 1961 after they both graduated from Makerere.
"I did not attend the wedding because I was out of the country then. I also got married to Wairimu but in America. That is how Alliance gave me a wife who later became the first matron of Kenyatta National Hospital," Wa Nyoike says.
Njoya too has fond memories of the girls high school for his wife and daughters are products of the school although he hastens to add that he studied in Kagumo, not Alliance.
Tweak your diet to suit your age
At this time of life many people take their good health for granted and healthy eating and exercise are often put on the back burner.