E-tag to fight disease, improve beef quality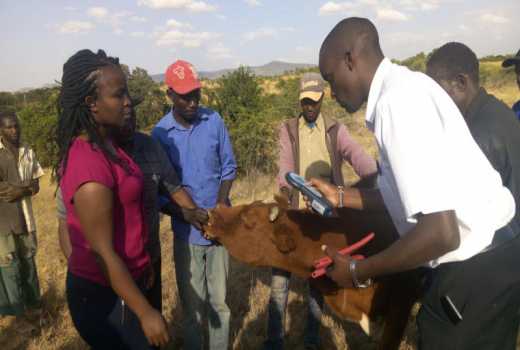 More than 39,000 head of cattle have been tagged in a livestock electronic identification campaign in the county.
The drive, which was kicked off in January by Kenya Veterinary Association (KVA), intends to tag livestock to ease traceability and curb illegal movement that leads to spread of diseases.
Segera, Lonienk, Muwalak, Marura, and Olmotonyi are some of the areas in Laikipia North where animals have been tagged.
KVA chairman Samuel Kahariri said traceability of livestock would help in marketing beef and other products in international markets. "Tagging animals will help us track information on cattle so as to identify and improve breeds," said Mr Kahariri.
An electronic button-like device is fixed on the left ear of each animal. The device captures details on sex, breed, health, weight, and lineage.
The details are reflected in a computer and phone compatible-application together with the owner's personal information, including identity card number, name, location, and bank details.
"If a tagged cow is stolen the device will assist in tracing its owner and location where it was stolen," said Kahariri.
The technology will apply at slaughterhouses to enable veterinary officers trace the breed, sex, and county where an animal originates.
The device is permanently fixed and can only be removed by rupturing or cutting off the animal's ear. A farmer will have to sell his cattle for slaughter if they have damaged ears to arrest spread of diseases.
According to Kahariri, e-taggin will first be conducted in Laikipia before being rolled out countrywide. At least 50,000 animals will be tagged in the pastoralism-dominated counties of Baringo, Isiolo, Laikipia, and Samburu. John Maina, a livestock keeper at Kariunga farms in Segera, welcomed the initiative.
"Some farmers have lost their lives trying to recover their stolen animals from armed cattle rustlers," said Mr Maina.
The association said with time it would extend the service to sheep and goats. "We want to ensure every livestock farmer is identified to help him get ready markets and save him from losing money to unscrupulous brokers," he added.
The county executive for agriculture and livestock, Lucy Murugi, said KVA was banking on the project to ensure pastoralists shifted from traditional ways of rearing livestock to disease–free establishments of feedlots to improve quality and quantity.