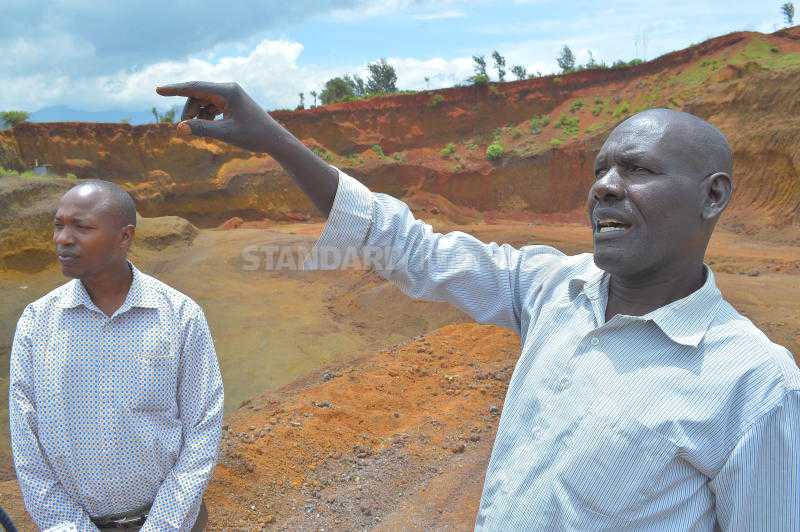 Hilario Kinaro, 58, will never forget an accident she had in September 2016.
It not only changed her life for the worse but also affected her entire family and its fortunes.
She was travelling in a taxi that plunged into a quarry. She fell into the Thinyaine-Ithangene quarry in Akithi Tigania West, one of the most dangerous mines in the area.
The accident left Ms Kinaro with fractures on both legs and hands. She had to be fitted with metal plates and for more than one year, she moved from one hospital to another for treatment.
This has left her family's resources drained and Kinaro now uses crutches and is always taking painkillers.
"She is always in pain, which worsens in cold weather. One of her legs is shorter than the other and she needs special shoes," said her son David Muthamia.
So far, the family has spent Sh1 million on her treatment, said Mr Muthamia, a veterinary officer.
"Our father had to stop working to take care of her. We have run out of money. We had to hold a fundraiser to buy the metal plates. She has been attending Kiirua and Chogoria hospitals for more treatment."
Kinaro is among many residents who have been left with serious injuries from falling into the many quarries in the region.
Several others have died after falling into many abandoned quarries.
The quarries have become a major risk, especially for children. Livestock have not been spared.
Several drowned
Many are filled with rainwater and several people have drowned.
Residents, especially those leaving near the mines, are now calling on the county government to regulate quarrying activities.
The quarries provide construction stones and gravel in Meru and neighbouring counties.
Thinyaine-Ithangene is said to be one of the most dangerous because it is wide and deep. It has claimed many lives and left several people with injuries, some life-threatening.
Jason Akula said it would be better if the quarries were fenced. He added that the Thinyaine-Ithangene quarry had also eaten into the road.
"We need to fence it so people, animals and vehicles don't fall into it. Last month, a man died after falling into the quarry. That was the second death I witnessed," said Mr Akula.
"Children who attend Thinyaine Primary and Thinyaine Secondary schools pass here daily. Adults have to be keen to ensure no accidents. We don't even allow grazing here to save our animals."
Nominated MCA Asenath Kaimuri said even though the quarries had created jobs for many residents, they had also become death traps.
Residents have asked the government to ensure that miners excavate stones towards a hills rather than towards the road.
Alex Mithika, another resident, said people buying stones also took gravel for free until a local MCA insisted they pay the community.
Akithi MCA David Kaithia demanded that construction companies that have been collecting stones and gravel should also rehabilitate roads in the area.
Last week, Mr Kaithia sponsored a motion in the county assembly to push the county government to regulate quarrying.