Nyeri leaders pick Senator Maina to champion county's development interests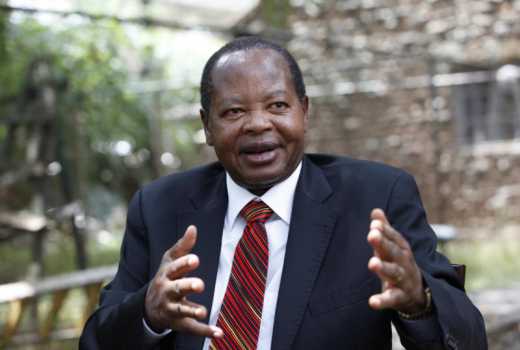 Some Nyeri leaders have endorsed Senator Ephraim Maina as the area's spokesman to negotiate the county's development interest in Government.
The grassroots leaders, most of whom lost in the last elections, want the Senator to lobby and negotiate for appointments to Government and also push for the interests of the county in development matters.
Maina (pictured) was once the Chairman of the Central Kenya Parliamentary Group caucus.
And for a start, he has been tasked with lobbying Nairobi Governor Mike Sonko to appoint Ms Anne Kagure, who hails from the county, as his deputy governor.
During a meeting in Nyeri town, the leaders said the only way the county will get a fair share of the Government appointments and development projects is by having a leader who can lobby for its interests.
Former governor aspirant Thuo Mathenge said Maina is the leader suited to champion the county's interests, given his political experience.
"We are requesting Senator Maina to work closely and passionately with local, regional and national leaders for the county to reap maximum benefits from the Government," said Mathenge.
The leaders also asked Maina to ensure the county's image was positively portrayed and represented nationally. "We have been accused of disunity amongst ourselves.
This has resulted in under development and lack of employment opportunities for our people and it is time we came together and pushed for our interests from a common point," said Wambugu Nyamu, who unsuccessfully challenged Maina in the last elections.
Even though the group said they were not at war with other elected leaders, their decision to propose Maina as the spokesman is however likely to draw sharp reactions from some elected leaders. "Our interest is to ensure maximum gain, economic progress, industrialisation and creation of jobs for the youth," said Democratic Party (DP) Chairman Esau Kioni.
The leaders also asked Nyeri Governor Mutahi Kahiga to exercise caution while appointing his deputy, saying he must look for a person who has leadership qualities and the county's interests at heart. "We won't put pressure on who to pick as it is your prerogative, but you must look for someone who will be a unifying factor," Mathenge said.
Lobbying for Nyeri deputy governor has intensified since the Supreme Court gave an advisory opinion directing Kahiga to nominate his deputy. Among those being mentioned are former Governor Samuel Wamathai and former Woman Rep Priscilla Nyokabi.
Poverty rates drop in Turkana County
Poverty prevalence in Turkana County has dropped by about 10 per cent in the last decade, the Kenya Integrated Household Budget Survey 2015/16 has rev