I demand, expect full compliance with court orders, Miguna tells Government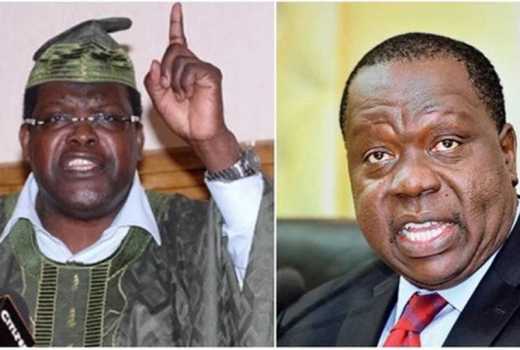 Lawyer Miguna Miguna has asked the Government to respect his constitutional rights.
Miguna, who is still at the Dubai International Airport, asked Interior CS Fred Matiang'i and Immigration Department to send him his Kenyan passport.
"Courts of competent jurisdiction have ordered the illegitimate state to return or issue me with a valid Kenyan passport. I demand and expect full compliance with those orders. I insist that my constitutional right to a Kenyan passport must be respected and upheld.
"My right to travel in and out of the country freely must also be respected and upheld at all times, in the same manner that these rights apply to all Kenyans equally," Miguna said in a statement on Friday.
The fierce Government critic also said that he was still sick and yet to get toxicology tests done on the chemicals he claimed he was injected with on Tuesday evening.
"I am in great pain, stress and inconvenience. My left hand is still badly swollen. I believe that Jubilee thugs had inserted an IV in it to keep me unconscious for the entire duration of the flight between Nairobi and Dubai. My left side is extremely painful," he stated.
Miguna further hit out at Government indicating that everyone, no matter how strong or weak, respects, upholds and obeys court orders and operates within the rule of law.
The political activist added that he has the right to travel in and out of the country freely without interference from any State organ.
"I intend to fly back to Nairobi as soon as possible. It's my birthright, constitutional and legal right as well. We must all remain strong, focused and fearless. That's the only way for us to liberate ourselves and Kenya from the clutches of Jubilee despots, their surrogates and allies," Miguna pointed out.
High Court Judge George Odunga on Friday fined CS Matiang'i, Police Inspector General Joseph Boinnet and Director of Immigration (now Interior PS) Gordon Kihalangwa Sh200,000 for contempt of court.
The amount will be deducted from their next month's salary.
Justice Odunga, while convicting Matiang'i, IG Boinnet, and Kihalangwa, said the war was no longer between the parties but had reached a level where judicial powers were on trial.
"There is no immunity for impunity; a time has come when the courts must lift the veil against those who act with impunity in disobeying it. No man is above the law. The Government officials cannot be allowed to catwalk around while disobeying court orders," said Odunga.
The State managed to deport the self-proclaimed NRM General on Wednesday night after he had been held at Jomo Kenyatta International Airport incommunicado aboard an Emirates Flight EK 722 headed to Dubai.
ODM through National Assembly Minority leader John Mbadi affirmed support for Uhuru-Raila pact but at the same time decried mistreatment of Miguna.
The Opposition party wants State to exercise restraint so as not to cast doubt on the deal.
To fight drought, involve communities
According to the latest information from the Meteorological Department, rainfall will be poorly distributed in April, May and June, and this will have a serious impact on agriculture