Miguna foils deportation attempt after 9-hour JKIA standoff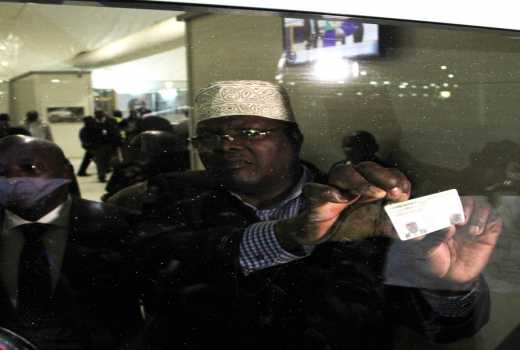 Opposition politician lawyer Miguna Miguna spent Monday night at the Jomo Kenyatta International Airport (JKIA) he refused to be deported by the state to Dubai.
Not even policemen could force the lawyer into the plane as he noisly resisted being bundled into the Emirate flight forcing the pilot to take off without him. Pilots have the right to refuse taking off with passengers they deem to be hostile aboard.
This after the Immigration Department failed to clear him despite his Emirates flight EK19 touching down at JKIA at 2.30 PM.
Reports indicated that immigration officials demanded Miguna's Canadian passport, which he refused to hand in. Routine procedures for travellers dictate that once a foreign national arrives in a country, he or she is issued with a visa. The country then has the liberty to grant or deny the traveller entry.
Later Miguna nad his lawyers would claim the passport had been stolen.
The fiery lawyer protested he was not born in that country and had no relatives there.
He claimed, he cannot be ejected from his own country in a most dramatic 9-hour scene at the airport that left several journalist nursing injuries and the delay of Flight EK 722 bound for Dubai.
"I am Kenyan by birth…You cannot take me away from my own country…I don't work in Dubai, I have no connections to Dubai. So I'm not going to Dubai," he shouted.
Ministry of Interior spokesperson Mwenda Njoka said that the Government had not denied Miguna entry but had asked him to present the passport he had used to travel.
"The Government has not denied Miguna Miguna entry into the country. Upon arrival at JKIA he was asked to present the passport he traveled on. He declined," said Mr Njoka in a tweet.
The National Super Alliance leader Raila Odinga who made his way to the airport at 10pm, failed to rescue Miguna from his tribulations and have him allowed into the country.
Businessman Jimi Wanjigi also arrived at the airport minutes after 11pm and was blocked from entering the waiting bay.
Police dispersed Raila and the crowd that had gathered at the JKIA to receive the National Resistance self-declared general.
Miguna's lawyers, on the other hand, have vowed to seek directions in court.
In a statement on Tuesday, the Department of Immigration sent forms to Miguna to enable him to reclaim his Kenyan citizenship and get clearance at the airport.
"To enable Miguna regularise his citizenship status, the Department of Immigration has dispatched the requisite application forms for Miguna to fill the process," read part of the statement.
To fight drought, involve communities
According to the latest information from the Meteorological Department, rainfall will be poorly distributed in April, May and June, and this will have a serious impact on agriculture