Miguna-Miguna returns from deportation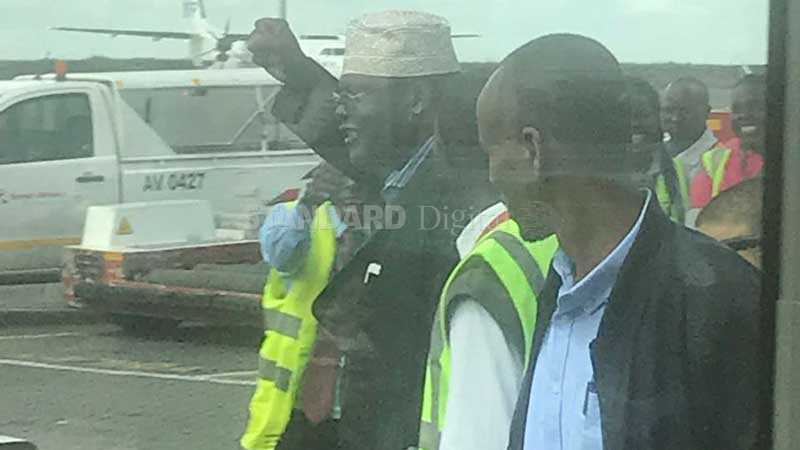 Opposition politician Miguna has arrived at Jomo Kenyatta International Airport, Nairobi, after a six-week stay in Canada where he had been deported to.
His Emirates flight EK19 touched down at the airport at 2:30 pm where he was received by his lawyers.
Miguna's lawyer Cliff Ombeta says has had been asked to surrender his Canadian passport to which they declined.
The fiery lawyer was deported to Canada on February 6, 2018 after his dramatic arrest for his role in the January 30 controversial swearing-in of Raila Odinga as the People's President.
However, his return now further throws into the spin his relationship with Raila Odinga, as he criticised his truce deal with President Uhuru.
According to Miguna, the reconciliatory meeting was meant to turn Kenya into an authoritarian rule as it only served the few elites at the expense of many suffering Kenyans.
"Raila's unilateral, irrational and erratic decision to betray the fight for electoral justice, the culture of impunity and the abuse of human right cannot be justified," he stated.
Since his deportation, Miguna embarked on a rigorous drive to meet Kenyans in the diaspora, discussing various issues with them including dual citizenship, while also promising to pursue the struggle to fight electoral injustice in the country.
He has made appearances on countless online forums and radio stations in Canada, US and Europe advancing his NRM agenda.
Journey back to Kenya
After Miguna's arrest, he was locked up incommunicado for five days, shifting between police stations in Kiambu and Kajiado before his February 6 deportation despite a court injunction against the same.
His lawyers put a spirited fight against his deportation.
On February 26, Justice Chacha Mwita ordered his return to Kenya and suspended the State's declaration that he was a prohibited immigrant.
The High Court Judge further suspended the cancellation of Miguna's passport by the immigration boss Major General (Rtd) Gordon Kihalangwa.
"During the petitioner's first re-entry into Kenya, the chairperson of the Kenya National Human Rights Commission be allowed access to the immigration and customs clearance areas at the port of petitioner's re-entry in order to observe the extent of the respondent's observance of the relevant constitutional human rights and immigration laws applicable to the petitioner's rights to reenter Kenya," ordered Justice Mwita.
On March 12, Court of Appeal Judges Roseline Nambuye, Patrick Kiage and Kathurima M'Inoti ruled against the Government's appeal to stop his return.
When his counsel Jmaes Orengo announced Miguna's return on Saturday, he said they were satisfied with efforts made by the government to facilitate his return.
Miguna has, however, remained defiant and criticised the Government for failing to facilitate his smooth return as ordered by the High Court.
"I wish to underline, however, the Cabinet Secretary for Internal Security and National Coordination, Fred Okengo Matiang'i, the Inspector General of the Kenya Police, Boinnet, and the Director for Immigration, Major General (Rtd) Kihalangwa, have so far refused to obey and comply with the various court orders by Justices Kimaru and Chacha Mwita requiring them individually and collectively to return or reissuance my or a valid Kenyan passport, undertake to and facilitate my return to Kenya as a Kenyan citizen by birth," he said in a statement yesterday in a statement.
To fight drought, involve communities
According to the latest information from the Meteorological Department, rainfall will be poorly distributed in April, May and June, and this will have a serious impact on agriculture