Hooked to electronic heroin: Alarm over growing problem of smartphone addiction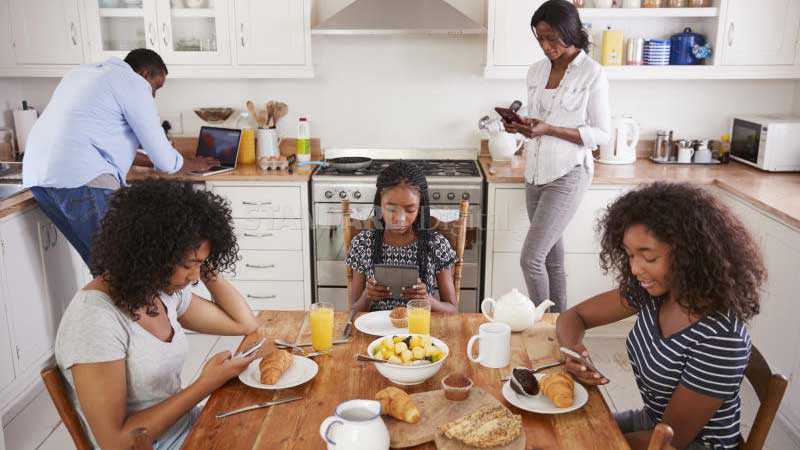 It was a chaotic scene between a toddler and her parents. The venue was a city mall. The girl, aged about three, was throwing tantrums and broke away from the mother and ran several steps ahead.
She was uncontrollable as she demanded for heaven-knows-what. Shoppers watched in disbelief at the developing scene, and at the embarrassed parents who were trying to calm down the distressed toddler.
Their efforts were all in vain.
Until the father stepped in.
He unleashed the magic wand, a smartphone and the child suddenly calmed down.
"I want Temple Run..," she demanded. Temple Run, is a highly addictive game about an explorer constantly running away from danger.
From that incident, what stood out was the magical method used to calm down the girl. And therein lies the problem as it points to a growing social problem — smartphone addiction among children and adults.
Smart devices which are turning a decade this year, have practically become everything to humans so much so that it is impossible to tell a teenager how the world was before their invention.
Overtime, smart devices have created a universal addiction never seen before. And this is not by accident, as experts point out.
"Technology companies spend a lot of time to hire scientists to study human behaviour so the entire design of a smart device is made on the Hook theory, to keep people addicted," says Sam Gichuru, the founder of Nailab, a technology incubation centre.
The in thing
Over-dependence by humans on smart devices is creating an addiction which behavioural scientists now say has similar destructive capabilities like hard drugs.
Facebook, the world's most popular website has an endless feed, Twitter gives people a chance to be mini-celebrities, Tinder encourages people to continue swiping in search of a date and YouTube automatically moves to the next video. The result is a constant urge to keep checking on your smartphone.
"It is actually worse than alcohol addiction," says Gichuru who despite founding one of the biggest technology hubs in the country quit posting on Twitter to avoid being exposed to negativity.
"Alcohol is something you consume once or twice a week but your phone is something that is constantly either in your pocket or hand," he says.
But since it is not toxic, technology addiction is not classified as other addictions but largely as a form of entertainment or keeping one busy. While it looks like a First World problem, indicators show that Kenya could also heading in this direction.
At least 60 per cent of Kenyans own smartphones and nearly all of them find it hard to put their devices down. At the workplace, managers find it hard to get their employees to concentrate during meetings since most of them are on their phones. On dates, the smartphone has now become the unwanted third party. And at home, children are always waiting for their turn to use the devices.
"Children operate through curiosity and observation. Since adults have refused to control the urge to be on their phones, the children want to know what is keeping them glued to these devices," Professor James Mwaura who teaches psychology at the University of Nairobi says.
Subsequently, the gadget is fast becoming a baby-sitter of choice for parents.
"It is a choice between leaving your children to play outside where you can't see them or keeping them busy in the house where you are sure they are not doing anything harmful," Kennedy Korir, a parent says.
Samuel Waikuru, a parent says it is the in thing.
"Even if you deny your child the chance to use a smartphone, they access one at the neighbour's," he says.
For just Sh6,000 one can buy a kid's tablet in Nairobi that can connect to the internet. Although you need to have a national ID card to obtain a SIM card, there are no regulations in Kenya on ownership of smart devices. The Government itself is at the forefront of this digital revolution and wants to supply tablets to every primary school.
Although carrying a smartphone to school is prohibited in Government institutions, most private schools do not have a problem despite the fact that students are likely to lose concentration.
But the smartphone has proliferated almost every household and is nearly tearing apart the family fabric.
"When you go to people's houses, you find parents on the phone and the children too so they have no time for face-to-face interactions," says Eric Kahenya, a fitness instructor.
Experts say the individualism created by the smart devices has an impact on family dynamics, child health, development and literacy.
"Smart devices overrides the natural instincts children have for movement and exploration which negatively affects their development," says Dr Philomena Ndambuki, a psychologist at Kenyatta University.
"A child should be learning to be attached to the society. Smartphones encourage individualism and turn users into unsocial beings and this affects even adults," she says.
Tech gurus protect their kin
Interestingly, technology experts stick to the 'drug baron rule number 1': Never consume your product or let your family use it.
They either restrict the amount of time their children spend online or do not allow them at all.
Nailab's Gichuru who also mentors upcoming techies lets his children spend only two hours per day on a smart device.
"I have installed parental control software on all the devices my children have access to and they get blocked immediately they clock two hours," he says.
"Additionally from my phone or tablet, I can see everything they are doing."
The late Steve Jobs, Apple's former chief executive once told journalists that his children had never used the iPad. Evan Williams, the founder of Twitter refuses to allow his two sons to use an iPad too and Lesley Gold of the US who has headed several tech giants imposes a strict no-screen-time during the week for her children.
So great is the fear that smartphone addiction could become a global destructive phenomenon that last month two major Apple investors asked the iPhone maker to help curb smartphone addictionamong children.
"Research shows that teenagers who spend five hours or more on smartphones are 71 per cent more likely to commit suicide than those who spend less than one hour," said JANA Partners LLC and the California State Teachers' Retirement System who collectively own $2 billion of shares in the tech giant.
How harmful is that thing?
So, how much use of a smart device is harmful to a child?
"When children get used of these gadgets, it becomes hard for even parents to control them," Jecinta Wangechi, a teacher says.
In 2008, China became the first country to declare internet addiction among children as a clinical disorder forcing gaming companies to set a cap on how much time children can spend playing online. Some 24 million young people in China are estimated to be internet addicts.
As a result, the Chinese government has set up 400 internet addiction rehabilitation camps across the country. The United States began its first inpatient internet addiction rehabilitation programme last September in Pennsylvania where children as young as 13 are being treated. Last year, France banned the use of smartphones in its primary and middle schools.
"Some children are so hooked to these games they think going to the bathroom will affect their performance so they wear diapers. These are the same as heroin addicts," the Daily Beast, a US publication reported recently about one of the internet addiction rehabilitation centres in China.
"Heroin addicts crave and look for heroin every day. The teenagers we have here crave and look forward to playing games online every day. That's why we call it electronic heroin," said the publication.
Research published a month ago in the New York Times said 46 per cent of adults believed they cannot live without their smartphones and 78 per cent of teenagers check their devices hourly.
Further, 72 per cent of people with smartphones feel the need to respond to texts and chats immediately. In the US, increased use of smart devices has been linked to teenage suicides and depression.