Kenya to continue facing political instability- US intelligence agencies warn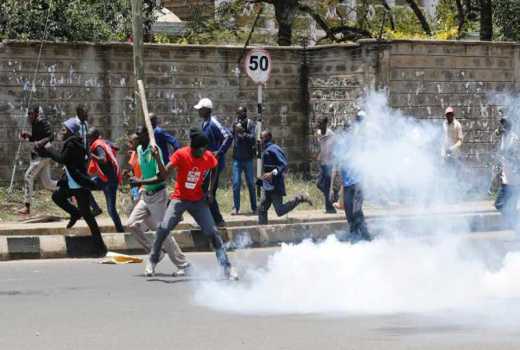 Kenya will face political instability this year as Opposition seeks redress of various grievances.
The US intelligence agencies warned both Kenya and Ethiopia face similar problems of political instability.
"The Ethiopian and Kenyan Governments are likely to face opposition from publics agitating for redress of political grievances," reads part of a report by the agencies.
It says Somalia's recently elected government probably will struggle to project its authority and implement security reforms amid the drawdown of African Union forces in 2018, while al-Shabaab— the most potent terrorist threat to US interests in East Africa—probably will increase attacks.
The report dubbed -Worldwide Threat Assessment of the US Intelligence Community- was presented to Capitol Hill by the US director of National Intelligence Daniel Coats.
There have been a series of activities since August 2017 polls including protests during which up to 100 people were killed. Many others are still nursing wounds mostly from police shootings.
The warning by the intelligence community on politics comes at a time when foreign envoys in Kenya are pushing for dialogue after the polls.
So far 11 western envoys, including those from the United States and Britain have urged opposition leader to recognize President Kenyatta as the country's legitimately elected leader.
The diplomats said Raila Odinga needs to accept Kenyatta's presidency "as the basis for the dialogue that it (the opposition) and many Kenyans want."
"We are deeply concerned by recent political developments in Kenya. Both the government and the opposition have taken steps that have undermined Kenya's institutions, and driven wedges among its citizen," the envoys said in a statement.
Odinga held a mock inauguration January 30 in which he was sworn in as the "people's president." The government reacted by shutting down some broadcasters and arresting some participants.
The government also deported lawyer Miguna Miguna, despite five court orders for him to be produced in front of a judge and released on bail.
The diplomats in their statement urged the government to follow the law.
"We strongly urge the Government to comply fully with court orders and follow legal process in appealing or contesting them," they said. "Freedom of expression, freedom of the media, and all civil rights need to be protected."
The Law Society of Kenya announced Sunday that its members will hold a demonstration to protest the government's failure to obey court orders. The society's plan for lawyers to boycott court proceedings for a week was postponed.
"There is no question that our nation now faces perhaps the greatest challenge to the rule of law in recent times with the violation of rights and the brazen disregard of court orders by state and public officers" Law Society of Kenya President Isaac Okero said in a statement.
Odinga says he was cheated of victory in Kenya's August presidential election by hackers who altered the vote. The Supreme Court nullified the results of that election after Odinga challenged Kenyatta's win.
The court ordered a fresh election, which Odinga boycotted, saying significant electoral reforms were needed. Kenyatta's party instead changed electoral law to make it harder for courts to nullify results.