You are not welcome, high-profile deportations in Kenya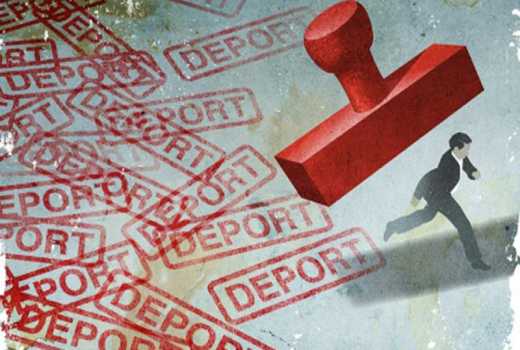 Aboard a KLM Royal Dutch Airline flight departing Nairobi for Amsterdam shortly after 10PM on Tuesday February 2, Miguna Miguna's deportation story evoked strong reactions locally and internationally.
The outspoken self-declared general of National Resistance Movement (NRM) was deported for what the Government said was his decision to renounce his Kenyan citizenship years ago.
Miguna narrated how he was forcibly placed in the late night plane in flagrant violation of his constitutional rights, common decency and court orders.
A script often shared by many deportation encounters.
Miguna was not the first deportation casualty Opposition Outfit National Super Alliance (NASA) were suffering.
Barely a week to the August 8, 2017 elections Canadian Andreas Katsouris and American John Aristotle Phillips were working for Raila Odinga's campaign team when they were deported for not having work visas.
The duo is reported to have been involved in the election since they thought it had the potential for irregularities.
Katsouris told a Canadian online publication of the harrowing experience he had in the hands of the Kenyan police.
"I am sitting in the car with four or five guys, and two of them are sitting on either side of me and it is pitch black outside. In terms of kidnapping, and if I was going to be killed, it definitely crossed my mind," he said.
American couple Larry Peckham and Denise Huitron however, stayed in police custody for 35 days before being deported on April 11, 2017.
They had been arrested in suspicion of being involved in cybercrime.
Police arrested the couple together with former police officer and Kenya Revenue Authority (KRA) employee Calvin Ogolla and 13 other suspect over a hacking of KRA systems.
In June 9, 2006 Kenya dramatically ejected controversial Armenian Artur brothers from Kenya and prohibited from coming back into the country.
Artur Margaryan and his brother Artur Sargsyan had attacked a customs officer at Jomo Kenyatta International Airport.
Police raided their uptown home in Runda, found a cache of guns, ammunition and Quick Response Unit branded t-shirts.
They were kicked out of the country together with two other accomplices Arman Damidri and Alexander Tashchi without the customary court hearing.
Nigerian drug lords
In September 28, 2016 Police arrested Nigerian businessman Emmanuel Peter Lovembe who had been deported from Kenya in 2013 in Kayole.
Lovembe was arrested with a Kenyan woman Virginia Wakini who confessed to the police to returning to Kenya from Tanzania using different identification documents through the Namanga border point.
He had been deported alongside Antony Chinedu for being involved in a narcotics trafficking racket.
Then, Chinedu sneaked back into Kenya three months after their deportation and was arrested in Donholm, Nairobi.
The quickest deportation story is that of Congolese Rhumba artist Koffi Olomide.
On July 22, 2016 a video of him seemingly kicking one of his dancers at JKIA went viral on social media.
Koffi was arrested at 10pm when he was leaving an interview at a local television station and was deported the next day, staying only a couple of hours in the country.