Radio Maisha crew rescues distressed fan landlord's wrath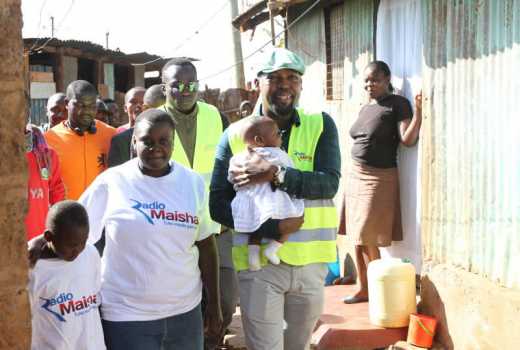 Nairobi, Kenya: The Radio Maisha crew rescued one of their most ardent fans from impending eviction from her house.
Diana Mbone faced eviction after defaulting on her rent for two months and accumulating a bill of Sh7,000 since last December.
The single mother had managed to raise only Sh2,000 from menial jobs to settle part of the rent. Her husband left a while ago, leaving her pregnant and fending for their two daughters.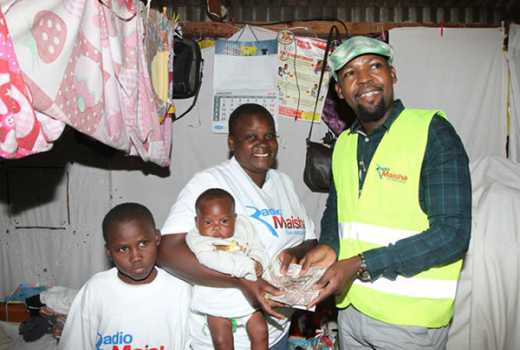 When the going got too tough, Ms Mbone turned to the only friend she had grown to trust over the years, Radio Maisha.
"I was depressed; my landlord was knocking on my door. There was no way I could live with my problems alone - I needed to share them with someone," she said.
"Something told me to call the radio station to share my stress. I also subscribed to the free SMS code 22277 offered by the radio station and shared my predicament."
Surprise visitors
On Wednesday Mbone received surprise visitors. Radio Maisha staff led by Alex Mwakideu alias 'Aleki' traced her to her house to clear the rent arrears. The presenters also gave her landlord rent for two months in advance besides buying her basic household supplies.
Mbone could not believe her luck.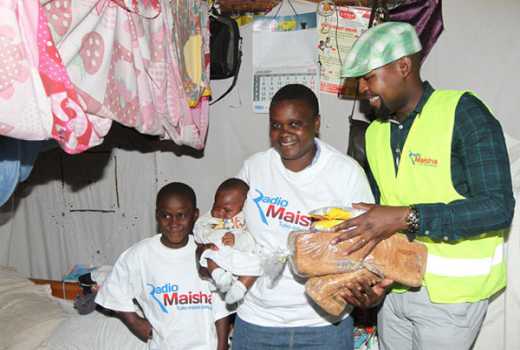 "Thank you, Radio Maisha, for quickly responding to my distress call," she said.
The rescue was a result of Radio Maisha's interactive programming that allows fans to share experiences with each other and with presenters.
"I love listening to 'Siri Yangu' because it provides a live platform for sharing problems," said Mbone.
Radio Maisha Sports Editor Stephen Mukangai said the interactive programmes were geared to identify and create support groups for fans facing numerous challenges.
He said Radio Maisha had helped to pay bus fare, medical and electricity bills, and school fees for listeners in distress.
"We are helping our fans to improve their lives. We will always respond to their needs."