Wheelchair gives boy wings to excel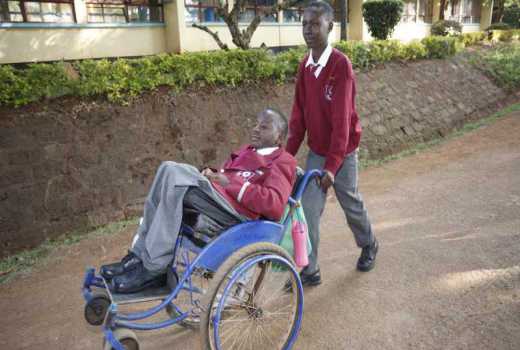 A programme to help students living with disability lead comfortable lives while in school has been rolled out.
As part of the project, Lenana School form Two student Nicodemus Kilunda, the first beneficiary of the Niko (Persons with Disabilities) Education Integration Programme was presented with a wheel chair at the school.
The project, a partnership between the Kenya Reinsurance Corporation Ltd (Kenya Re) and The Standard Group aims to help children living with disability get admission in top schools.
"It was Kilunda and others like him who inspired us to begin this project. He is representation of many students who, unlike many of us have been bypassed by education opportunities due to limitations associated with disabilities," said Kenya Re Managing Director Jadiah Mwarania.
He said the company had embarked on providing mobility assistive devices to persons living with disability and top performing children living with disability, to make their life bearable.
Kenya RE Director of Corporate Affairs Gladys Some-Mwangi said part of the project would include a facelift of two major schools that had been identified to admit the children.
She said the Ministry of Education selected Lenana School to admit top performing male children living with disability while Moi Girls School in Isinya was picked to admit top performing girls with disability.
Lenana School Principal William Kemei said the school management had sensitised other students on how to appreciate students living with disability who joined the school.
"We recognise that there can be stigma associated with disability and that it is only knowledge that removes this stigma. With sensitisation, students have already proved that they can be of great help to their fellow students who are abled differently," Mr Kemei said. He said Kilunda was a hardworking and obedient student who had already won the hearts of fellow students and teachers.
He said the school was in the process of equipping the laboratory and sanatorium with facilities that would make lives of the children comfortable.
Risper Kigen, Kilunda's caretaker at St Marys Centre for Children with Disability in Mukuru thanked the Standard Group, Kenya Re and Lenana School for the help they had accorded to the ambitious boy.
On his part, the young Kilunda urged children living with disability to take advantage of opportunities that had been availed for them to excel.