IEBC was always divided: 4-3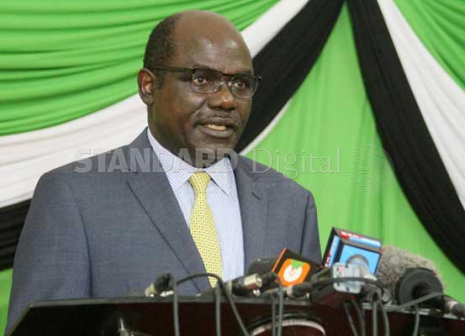 Divisions within the electoral commission have been witnessed before and after the August 8 elections.
Officials at the Independent Electoral and Boundaries Commission (IEBC) virtually failed to take a common stand on any issue.
From procurement to staff deployment, IEBC chiefs continuously clashed as suspicions about external interference plagued the agency.
And finally, Wednesday, what had been rumoured played out in the open when chairman Wafula Chebukati acknowledged the rift.
"The expectation Kenyans have of me is high yet I cannot move forward with a divided commission," the IEBC boss told the country yesterday.
"As a lawyer, I cannot continue to be pushed by majority commissioners to accept legal opinions that serve partisan interests and are not grounded in the Constitution or law."
Mr Chebukati was addressing a press conference hours after his ally in the commission, Roselyn Akombe, resigned citing frustration, security fears and a cracked commission.
Just like Chebukati, Dr Akombe also alluded to an agency whose members and secretariat appeared to be remote-controlled from elsewhere and could not deliver credible polls.
"It has become increasingly difficult to attend plenary meetings where commissioners come ready to vote along partisan lines and not to discuss the merit of issues before them," she said in her resignation statement.
Chebukati, Akombe and Margaret Mwachanya often found themselves in the minority against vice chairperson Connie Maina, who had the backing of Abdi Guliye, Boya Molu and Paul Kurgat.
Chebukati's frustration was witnessed last Wednesday after he walked out of a meeting to discuss the impact of Raila Odinga's withdrawal from the race.
Called off
The chairman, supported by the two commissioners, pushed to have the poll called off altogether, but the other four shot down the proposal. It was then that Chebukati and his allies staged a march-out and allowed the majority to communicate their decision to Kenyans, which was done in an unsigned statement.
The four commissioners resolved to have the polls proceed as scheduled on October 26, a position that has been pushed by Jubilee Party.
On the day of the plenary sitting, Deputy President William Ruto was in Kajiado where he insisted the vote had to proceed, especially after the High Court ruled that Thirdway Alliance Kenya presidential candidate Ekuru Aukot should be included on the ballot.
Last month, rifts at IEBC were exposed after Chebukati appointed a poll project team to 'sideline' CEO Ezra Chiloba and other officials.
How Akombe left the country
Electoral commissioner Roselyne Akombe is said to have left the country on a mission to inspect the printing of ballot papers at the Dubai-based printing firm, Al Ghurair.