20 Western envoys welcome Supreme Court ruling, call for fair election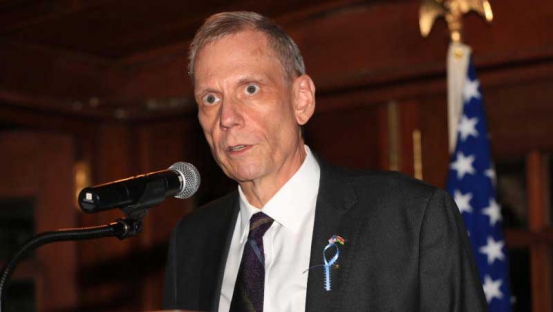 Twenty Western countries have welcomed the Supreme Court's decision on the 2017 presidential petition.
In a joint statement read by US Ambassador Robert Godec, the countries lauded the judgement as demonstrating the independence of Kenya's Judiciary and presence of an effective electoral complaints mechanism.
"We have followed the petition process with our observers in the Supreme Court. We have seen that the court has worked diligently, openly and thoroughly despite short timelines," the statement of the grouping, the European Union Election Observer Mission Kenya 2017, said.
"We call on the election administration to consult with stakeholders, to work transparently and to give regular updates on the progress being made," it added, on the next course of action.
The envoys said the court's independent review had demonstrated Kenya's resilient democracy and commitment to the rule of law.
"The Kenyan people showed patience and confidence as the legal case ran its course. Kenya's electoral institutions now must begin preparing for a new presidential poll. We urge all concerned to join hands and ensure a free, fair, credible and peaceful election," they said.
They included Bruno Pozzi (European Union), Ralf Heckner (Switzerland), Sara Hradecky (High Commissioner for Canada), Frans Makken (The Netherlands), John Feakes (Australia), Dr Harald Gunther (Austria) and Julia Pataki (Romania).
Others were Javier García (Spain), Hilde Van Inthoult (Belgium), Ramses Malaty, (Finland), Sergiusz Wolski (Poland), Nic Hailey (United Kingdom), Jutta Frasch (Germany), Mette Knudsen (Denmark), Victor Conrad Rønneberg (Norway), Antoine Sivan (France), Mauro Massoni (Italy), Constantinos Moatsos (Greece), Frantisek Dlhopolcvek (Slovakia), Luisa Fragoso(Portugal), David Pavlita (Czech Republic), Gavan Mc Cann (Ireland) and Fredrik Folkunger (Sweden).
Take a quick survey and help us improve our website!
Take a survey
The envoys said they trusted in the country's ability to hold transparent elections. "All electoral processes can be improved, and we will continue to support institutions in this important work," they said.
"As friends, we want to deepen our partnership with Kenya as it moves forward in building this great country. We stand with all Kenyans as they support and reaffirm their democracy," said Godec.
To fight drought, involve communities
According to the latest information from the Meteorological Department, rainfall will be poorly distributed in April, May and June, and this will have a serious impact on agriculture