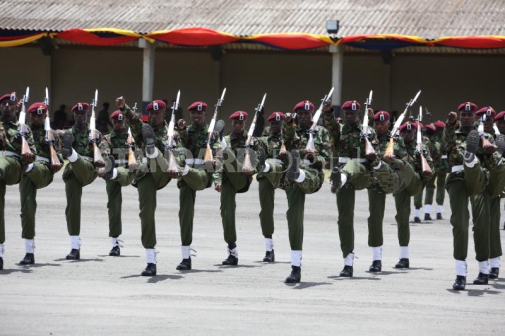 Salaries of all police and prison officers will be doubled following a hefty pay increment.
Some of the officers have been awarded up to 100 per cent of their basic salary increment, going by a new salary scale seen by The Standard.
However, the increment will be spread in four phases beginning end of this month.
A constable, who currently earns a basic salary of Sh17,800, will pocket Sh32,880 by 2020.
The news of the proposed salary increment was broken in an internal communication from the Inspector General of police's office to all officers. This followed a letter from the Directorate of Personnel Management in the department of public service to the police following a recommendation by the Salaries and Remuneration Commission.
Directions on allowances will be communicated when received, the memo said.
A police officer in the rank of corporal, who has been earning Sh21,000, will by the end of the four-phase increment earn a monthly salary of Sh42,660.
A sergeant who has been taking home Sh28,671 will now pocket Sh45,540.
According to the structure, senior sergeants have been placed in pay grade four with a salary of Sh50,220, up from Sh31,737, while an inspector of police will earn a basic salary of Sh53,820, up from Sh33,903.
In the new structure, a chief inspector is at pay grade six and will be earning a monthly salary of Sh59,220 while an assistant superintendent of police will be taking home Sh70,530.
The structure places a superintendent at pay grade eight with a monthly salary of Sh73,020 while a senior superintendent will get Sh85,890.
A commissioner of police, a new rank introduced in the service at pay grade 10, will earn a monthly salary of Sh130,590, while an assistant inspector-general of policewill pocket Sh187,890.
A senior assistant inspector-general, who is the most senior before the deputy inspector general and the inspector general of police, will be earning Sh274,890 every month.
The Inspector General of Police will be earning Sh854,241, according to the new structure.