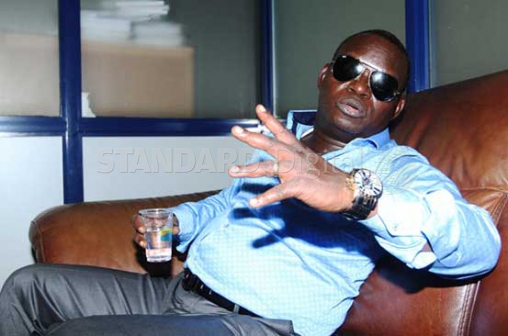 Controversial businessman Paul Kobia was Wednesday night arrested with his six bodyguards after they were involved in a violent fight with a Congolese national in Nairobi.
The Congolese national was injured during the incident and is admitted in hospital. Kobia told police he went to claim his Sh40 million from the Congolese national, the money he had lent him in exchange for gold.
Witnesses said Kobia and his gang arrived at Super Lodge along Kindaruma Road in Kilimani area at about 10pm where the Congolese identified only as Londale stayed and forced their way in.
They then forced him into their car while beating him up and shouting they needed their money.
Kobia is said to have used his gun to shoot in the air twice after guards at the apartment there tried to block their way.
It was then that police were alerted and chased them up to Riverside area where the arrests were made.
Nairobi police boss Japheth Koome said they intended to present Kobia and his accomplices in court and ask for more time as investigations into the incident continue.
"He claims the Congolese has his money but we are concerned with the manner in which he conducted himself," he said.
Other close friends to Kobia and Londale said there were claims of love triangle that led to the drama.
Kobia has in the past been involved in gold business. He recently released a video on Youtube accusing President Kenyatta's handlers of blocking him from accessing the president.
He had also been named in various reports on illegal gold that originates from Congo.