Woman follows truck for 5km picking maize, grain by grain, to beat hunger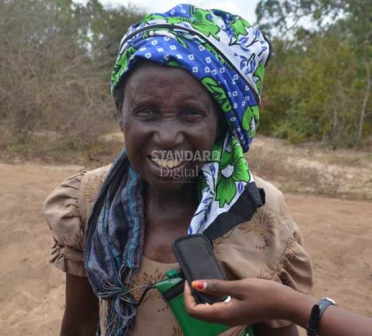 An elderly widow yesterday walked for more than five kilometres picking grains of maize, accidentally dropping from a lorry transporting relief food in Kilifi County.
The act by Kasichana Goshi (pictured) paints a picture of the desperation and struggle thousands of families in Ganze, Magharini and Kaloleni constituencies are facing, due to lack of food.
Goshi who hails from Petanguo village in Ganze Sub County, said she started her journey early in the morning and trekked for hours picking the maize dropping on the road from the lorry.
What prompted her to make the desperate trek is the fact that the relief team in Bamba Ward, had only given her two kilos of maize, yet she felt this was barely enough to feed her four hungry children.
Kasichana said the food which is being distributed is not enough to sustain them for two meals in a day.
"The drought is severe and our farms are dry. They have been giving us some food but it is not enough. That is why I decided to follow this lorry and pick the maize that was dropping. I did that because I did not want the maize to go to waste yet we are suffering back in our homes due to lack of food," she said.
To avoid needless deaths and the desperation being expressed by vulnerable mothers and children, Kasichana appealed to the national and county governments to ferry in more food for starving families.
And in another sorry state of affairs, two pupils from a public primary school in Magarini Sub County collapsed in school due to hunger.
Tecklas Muzungu and Moses Barisa — both Class Seven pupils at Kipangaajeni Primary School — collapsed on Monday last week while at school.
The head teacher Solomon Kisagi said the boys were rushed to Burangi health Centre, two kilometres away from the school, where they were treated and later discharged.
"We had not started our classes and the pupils were still outside. The two boys collapsed while they were outside and we rushed them to Burangi Health Centre.
"When the nurse examined them, they were found to be OK, just hungry. We brought them back to school then prepared for them some porridge to boost their energies. They gained strength after the meal," said Kisagi.
Wenger admits Sanchez gamble backfired
Arsene Wenger admitted his decision to drop Alexis Sanchez had backfired, but the Arsenal manager blamed "cheap goals" for his side's damaging 3-1 defeat at Liverpool on Saturday.