Why Marsabit leaders are seeking direct Jubilee Party nomination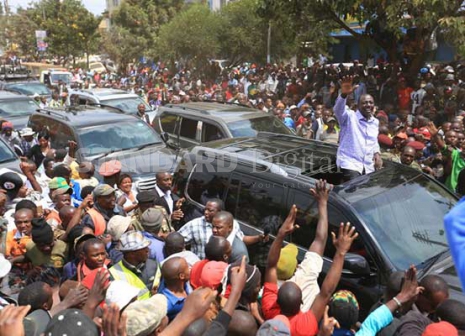 Some leaders from Marsabit County are reportedly seeking to be given a ticket to contest for seats under the Jubilee Party (JP) without having to contest in the party's nominations.
Led by gubernatorial aspirant Muhamud Ali, the former National Hospital Insurance Fund Chairman, and Saku MP Ali Rasso Dido, the delegation of 55 people told the Deputy President William Ruto that as the founders of defunct United Republican Party (URP), they should be given priority in JP.
This jostling for positions was triggered by another meeting between the DP and members of a rival camp led by Governor Ukur Yattani whose acolytes also want to be given a direct ticket to contest under JP.
Yattani, who was elected under the Orange Democratic Movement ticket in 2013 but has since defected to JP, told the Deputy President that his group can muster support and ensure that Jubilee wins seats in the region.
Yattani was grouped together with ODM legislators Joseph Lekuton (Laisamis) and Chachu Ganya (North Horr) who defected to JP, and Moyale's Roba Duba (URP).
High-profile defectors
The high-powered list of defectors also included ODM's Marsabit Senator Abubakar Harugura and Isiolo Woman Rep Tiyah Galgalo among others. Harugura defected to JP and joined Ali's camp.
A third camp that met the DP had among its ranks Sarah Godana, the widow of former Cabinet Minister Bonaya Godana, who died in a plane crash in Marsabit in April 2006.
Laisamis parliamentary aspirant David Timado wants members of Ali's camp to allow their rivals to contest for seats under Jubilee 'friendly' parties.
According to Timado, friendly parties are those that support the re-election of President Uhuru Kenyatta but want to field candidates to contest for seats under other political parties besides Jubilee.
Timado has now urged the leaders to reach a compromise. "All the three camps are interested in JP ticket and no one is ready to face their rivals in a constested nomination,'' he said.
The leaders met Deputy President William Ruto at the Weston Hotel in Nairobi.
The DP said that JP would hold free and fair primaries.