Puzzle of heavily guarded ranch deep inside Laikipia 'war zone'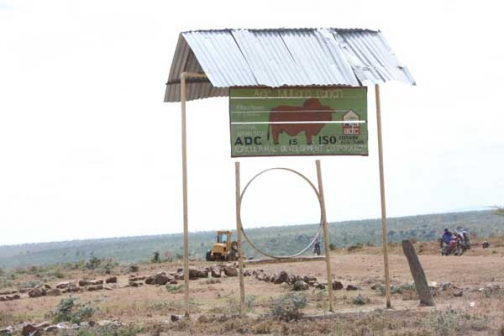 As conflict over pasture in Laikipia County escalates, questions have emerged about the ownership of a vast ranch leased out to an influential individual by the Agricultural Development Corporation (ADC).
The high-profile ranch, hived off the expansive Mutara ADC farm, has been spared from recent attacks where armed herders have driven their livestock into farms as the drought continues to bite.
Word on the ground is that the ranch, along the Rumuruti-Nanyuki road, was acquired in 2015 by a top government official.
Interestingly, there is heavy presence of armed police officers deployed inside the enormous ranch to provide 24-hour security.
Early in the week, suspected cattle rustlers disguised as herders shot and injured Laikipia west OCPD Mbelengo Mohare in the nearby Kifuko ranch in the outskirts of Rumuruti town.
The OCPD was leading a team of security officers tracking down suspected cattle raiders who had allegedly stolen livestock in a village near Rumuruti town.
The area is home to tens of ranches, some of which have established tourist facilities.
Other ranches have also been attacked recently, but the private ranch at Mutara ADC farm has been spared the violent spell since it is well guarded.
Despite being a private property (having changed hands in the lease agreement), the ranch has a fully-fledged police camp with personnel from both regular and administration officers.
Wild animals
The police camp with temporary iron sheet houses is visible from the rough road that cut across the region. The ranch is located about 30 minutes drive from Rumuruti town.
Asked why there was a police camp inside a private ranch, Laikipia Police Commander Simon Kipkeu said he was new in the area but found the camp there.
"I just came here two months ago and I found the camp in existence. But I don't think it is something strange with all these incidents of insecurity," said Kipkeu.
Attempts by The Standard on Saturday to enter the ranch were thwarted by police officers.
"We have to get instructions from Nairobi to allow people in," said a guard who could not however explain where in Nairobi or which office he meant.
The extensive ranch is secured all round with an electric fence and deep trenches to keep off intruders.
In one part of the ranch towards the Nanyuki direction, scenic bush and big indigenous trees inhabited by some wild animals surround it. A huge tract of the land has been populated with the indigenous Boran cattle, which an employee estimated to be about 5,000.
Heading towards Rumuruti, in the opposite direction, there's a large tract of land under wheat while near the police camp, which can be visible from the road, the land is freshly tilled.
Employees said they are readying it for a maize plantation.
According to an employee who spoke to The Standard of Saturday, the ranch is divided in four main paddocks where different activities are carried out.
The employee who declined to be named said one portion of the land is set aside for livestock with herders deployed to protect the cattle from attacks by wild animals.
"Every herder has a responsibility of taking care of about 100 animals these sides which have rich grasslands and thick bushes," said one employee.
He revealed that the lower side of the farm has been dedicated for a wildlife conservancy adding that plans were underway to establish a tourist resort on one part of the land.
The other paddock is for wheat farming while the other one has been set aside for maize.
It is not clear how the land was leased out to individuals but sources have intimated that ADC was disposing part of the land to ease its financial burdens.
The corporation officers on the ground remained tight lipped over the lease with an official who identified himself only as Ahmed directing us to ADC headquarters in Nairobi.
Yesterday, ADC public relations officer Karianjahi confirmed that the parastatal owns the 64,000-acre Mutara farm in Laikipia.
ADC responds
ADC says its yet to ascertain if its farm has been affected by the wave of invasions in Laikipia.
Karianjahi said a team was dispatched from Nairobi on Thursday for a fact finding mission and will report back over the weekend.
Karianjahi however said he could not accord us with information related to any part of the land being leased as the information was with the CEO Richard Aiyabei who was away in Kitale, attending a board meeting at Kenya Seed Company.
"Once the CEO is back in office, we will be able to give you all the information you are seeking," he said.
ADC, like many other State corporations, was almost brought to its knees in the late 1990s through gross mismanagement, looting and grabbing of its prime land.
Most powerful government officials then took advantage of the struggling State firms to acquire land and sold it off. In the case of the Mutara ADC farm, the local herders have been unhappy with the firm for leasing out land, which they had an informal agreement to graze their livestock.
The Mutara Ranch is used by ADC as a breeding ground for Boran cows.
Before the land was leased out, local residents would pay Sh200 monthly to ADC to allow them to graze their animals in the vast grassland. But this is no longer tenable with armed police providing round the clock surveillance.
"We are very sad at the state of affairs. We are now forced to drive our animals for long distances in search of pasture since we wont be allowed to graze inside Mutara," lamented Kesion Sige.
He went on: "There was no major conflict before because ADC would allow us drive our livestock in their land during the dry season. But since the land was transferred to an individual and fenced off with electricity, more conflict has emerged."
In 2015, a section of the residents moved to court to challenge the move by ADC to lease out the land.
They argued that they use the land for grazing their animals, cultivating and has also been part of their community heritage since birth.