Residents eat tree barks and leaves to survive severe drought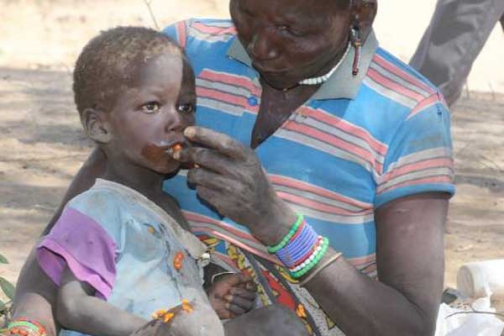 Families in several Rift Valley counties are now eating wild fruits and tree barks to survive.
In West Pokot, locals are boiling leaves of trees which they use as vegetables even as the county records increased cases of malnutrition.
Ompolion Chief Joseph Korkimul said livestock are also surviving on wild fruits and tree leaves even as many continue to die due to lack of water and pasture following months of drought.
Some farmers have complained that their livestock have died after feeding on certain wild plants.
"There are some trees whose barks cows feed on whenever there is drought. However, the drought has also ensured these tree get extinct. Farmers will incur more losses if the rains don't come," said Korkimul.
When The Standard visited Napitiro village, a section of residents were busy plucking leaves from trees, which they would later boil and eat. Even women had not been left behind as they too had climbed trees to pick the leaves in their efforts to survive the dry spell.
In northern part of the county, residents are eating leaves of a pumpkin-like wild plant even without caring about how it might affect them.
Some of the wild fruits need to be washed with a lot of water before they are eaten otherwise, they cause diarrhea. However, the region has no water after rivers dried up.
"We are forced to eat the fruits without cleaning them because there is no water. We are faced with more problems when we get stomach problems because health facilities are far away and even when you get there, most of the dispensaries have no drugs," says Kotokil Chepurayi, 50.
Chepurayi says the nearest water pan is 30 kilometers away which they share with their livestock and wild animals. Hardest hit areas are Alale, Kodich, Kacheliba, kapchok, Alale, Kiwawa, Masol and Kasei.
In Turkana, hundreds of pastoralists who crossed into South Sudan in search of water and pasture have been flushed out by local Toposa herders.
Lokichoggio Senior Chief Daniel Kakure said the pastoralists have been forced to return home with their emaciated animals most of which he said are likely to die unless rains come.
"The problem has been compounded by renewed conflicts between local pastoralists and Toposa herders," said Kakure.
One of the pastoralists, Akai Lomil said they were forced to flee watering points at the Kenya-South Sudan border after their Toposa counterparts attacked them.
Baringo County, on the other hand, has witnessed a wave of conflicts as residents fight over the few water points. Most rivers and water pans have since dried up.
And the conflicts are not just between people. Baboons are reportedly chasing human beings from water points.
Lapanga Teketee said he had to flee, together with his younger brother, after after the animals attacked them while scooping the little water left as the only dam continues to dry up. The dam, with little water that has since turned green, is dotted with dead fish.
"This dam has been our only source of water. We have to camp here and keep baboons and other wild animals away from the dam otherwise, thirst will kill us," said Teketee.
In Tiaty Constituency, there is no sign of a man in most homes after they left their families behind in search of food and water. Some men as said to have kept of their homes because they don't want to witness their children, and livestock, die of hunger.
Breastfeeding mothers and children are hardest hit. Women are forced to give their children empty baby bottles to sooth them.
Chemkea Longorianiro said they are forced to walk close to 20 kilometers to get to the nearest well along river Chesite and even then, they are not assured of getting water.
"We have abandoned our animals to die because we have nothing to feed them with," said Longorianiro.
At Chesakam village, residents are cooking cactus among other wild fruits. Some of the wild fruits are poisonous and must be boiled for up to nine hours to make them edible.
The situation in this region has worsened after many NGOs that have been helping residents during dry weather withdrew.
Residents are calling on the national and county governments to give them relief supplies.