I'm under pressure to prosecute Auditor General Edward Ouko, says Keriako Tobiko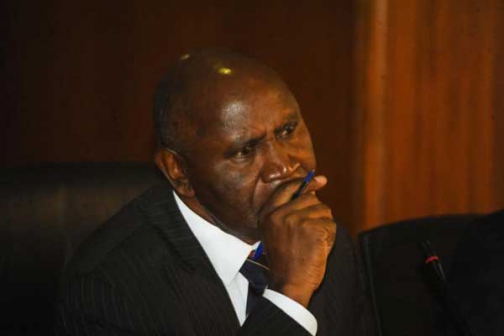 Director of Public Prosecutions Keriako Tobiko has blown the whistle against attempts to unduly influence his decision on whether to prosecute Auditor General Edward Ouko.
Mr Tobiko yesterday revealed to The Standard on Saturday "sinister and mischievous" attempts to coerce him to make a decision on prosecuting the AG over alleged Sh100 million worth of procurement irregularities.
The DPP now says he cannot appreciate the "sudden urgency" of the matter given that it had been investigated for three years. He said the magnitude of the investigations would require more thorough approach.
The Ethics and Anti-Corruption Commission (EACC) handed over two box-files to his office on January 3 for him to make the ultimate decision.
On Thursday, and before he could make the decision, Martin Nkari, an activist with the International Policy Group, filed a petition in Parliament to take up the issue claiming the DPP "had failed to give satisfactory response" on the matter.
"I find it rather strange that an extreme wave of urgency has been imposed on this matter when the same was not there since 2014 when it was taken up by investigators," noted Tobiko.
He said his three deputies have been scouring through the evidence to enable him make an informed decision.
"I find it rather contradictory that people would want the DPP to simply gloss over the investigations on a matter of such a magnitude in temporal scope as well as expansiveness of the investigations," he bemoaned.
By the time the petition was lodged in Parliament, the DPP says he was about to make a decision. But he reiterated that he would not allow himself to be intimidated.
Unseen hand
The DPP further stated that the insinuation created in the petition that he was "sitting on the file" was most unfortunate and misinformed.
He said he was not interested in the reasons why people want him to get over the matter. "I am not interested in those games. What matters to me is that I have a constitutional duty to perform and I will do just that," he said.
And as Tobiko was reading the riot act to those hankering for his decision, Ouko on the other hand claimed of "unseen hand" which has been firing on all cylinders to intimidate him for delivering his mandate.
He claimed the unseen hand (implicitly Government) was using "unorthodox means, including the EACC" to bully him to slow down on his work.
Ouko said the same audit vault software for which EACC recommended that he be prosecuted had produced immense results for the Kenya National Audit Office which he leads.
He specifically credited the system with netting more controversial and dubious NYS payments which they had been unable to figure out.
The Standard on Saturday has also established that upcoming audit reports in a decisive election year are at the centre of the renewed pressure against the Auditor.
When we put this to the Auditor General, he feigned ignorance: "My guess is as good as yours. The point is, the things I am being accused of are purely administrative matters and I have nothing to do with them."