African Independent Pentecostal Church of Africa (AIPCA) fight over property and power heads to the court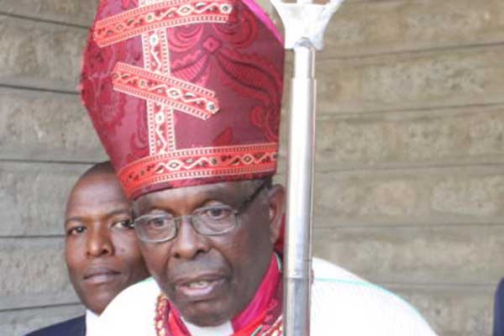 Power struggle in African Independent Pentecostal Church of Africa (AIPCA) has refused to go away despite past intervention by President Uhuru Kenyatta.
The wrangles, in a church whose history is intertwined with Kenya's own liberation struggle, have now sunk to new levels of anger after a fresh petition was sent to the Attorney General.
The petition seeks to annul the election of Bishop Julius Njoroge as Archbishop on January 9 to replace Archbishop Amos Mathenge Kabuthu.
A splinter group led by ex-communicated former national chairman Paul Watoro Gichu is accused of radically fighting the outgoing bishop.
Following the disputed elections, Kabuthu proposed to appoint an acting Archbishop for a period of 30 days as elections are being organised. The petition signed by Kabuthu and Eliud Njua Juma, a trustee member, claims names of dead officials and those who have already resigned were captured in the election. It claims that ex-communicated members took part in the election. Further, 36 bishops, diocese chairmen and chairladies boycotted the controversial election including the outgoing Archbishop.
Revolt broke up
The detailed petition says a 2012 electoral register was used and three bishops who were not qualified to take part in the process, were enlisted as candidates for the Archbishop post.
"The electoral register which was used was backdated to 2012 meaning changes that have happened since then were never captured. For example, the National Treasurer the late Timothy Gitonga Gachoya is recorded to have participated when the current holder is Mrs Ann Wanjiru Kahura. Bishop Bairu who formerly headed Imenti North diocese was not replaced and chairlady of Embu had passed on but the register used did not reflect the current chairlady," the petition dated January 10, 2017 reads in part.
Bertha Nyambura who served as the national Chairlady in 2013 and tendered her resignation in May 2014 and Gichu participated in the disputed elections.
However, current office bearers were not incorporated in the process. Nyambura is the wife to former Archbishop the late Samson Mwangi Gaitho. Delegates from Nairobi Archdiocese, Gatanga, Maragua, Mukaro outh, Coast, Kirinyaga, Embu and Eldoret dioceses were not represented in the elections.
According to a confession registered at the Registrar General Bernice Gachegu's office, the church Secretary General said the candidates list was not availed to all dioceses and ineligible contestants were listed. The leaders are demanding a fresh election since the process was flawed. Normally, the time frame for election of an Archbishop is 135 days with 90 days being for praying for peaceful process and primate and 90 days for preparation on the enthronement.
The church is further marred in financial mismanagement amounting to tens of millions collected from the various dioceses. Records show returns were not remitted to Registrar General's. office There's also a tussle over control of the church's multimillion property empire.
The Secretary General Stanley Mburu has been accused of abdicating his duties and delegating them to Gichu, a wealthy businessman. Gichu was ex-communicated from the church in 2014 for having participated in illegal ordinations in Nairobi and Mukaro Diocese. But still, he has been a constant figure at AIPCA headquarters.
The well connected and politically conniving Gichu has proved a hard task and he now attends Bahati AIPCA church under police escort.
To resolve the impasse, Archbishop Kabuthu called upon President Uhuru Kenyatta and the office of the Registrar General broker a truce.
Interestingly, when the President tried the same in 2014, by summoning Bishop Kabuthu, Gichu, Mrs Gaitho and church chancellor Wahome Gikonyo in a meeting brokered by former Cabinet Secretary Francis Kimemia, his efforts did not bear fruit.
Kabuthu took over the church leadership in 2013 in a peaceful transition witnessed by former President Mwai Kibaki and President Kenyatta but within an year a revolt broke up.
He was formerly a primary school teacher and critics claim he lacked a degree certificate as the church constitution demanded.