India rejects Kenya call for doctors as more die over strike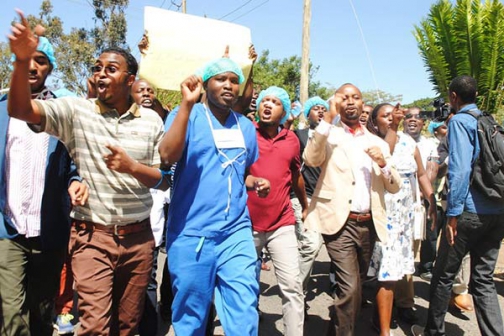 It is now emerging India turned down a request by Kenya for doctors to replace those on strike during President Uhuru Kenyatta's just-concluded visit to New Delhi.
The news broke on a day the health crisis deepened as doctors vowed to ignore a court order requiring them to return to work.
The Telegraph, an Indian newspaper, reported the country steered clear of a proposal to have Indian doctors hired by Kenya to ease the crisis that has paralyzed operations in public hospitals for over a month.
President Kenyatta was on a two-day State visit to India during which he held talks with Prime Minister Narendra Modi.
The newspaper reported that Modi only committed to 'encourage' the manufacturers of healthcare supplies to invest in Kenya.
"We want, and will encourage, industry and business in both countries to take the lead in exploiting opportunities in healthcare," Modi was quoted as saying by The Telegraph after talks and lunch with President Kenyatta. The president hosted the Indian PM in Nairobi last July.
However, the extent of talks between the two leaders was not immediately clear and The Standard could not independently verify whether the Kenyan delegation had directly made a request for Indian doctors during the talks.
The Government has threatened to sack the 5,000 striking doctors and officials had suggested flying in doctors from India and Cuba.
But critics have argued that option could prove far costly and protracted considering foreign doctors would require approvals from relevant professional certification authority, whose membership includes striking doctors.
Yesterday, the crisis escalated as the High Court warned officials of the doctors union they will spend one month in jail if they refuse to call off their strike within two weeks.
Lady Justice Hellen Wasilwa sentenced seven officials of Kenya Medical Practitioners, Pharmacists and Dentists Union (KMPDU) to a suspended one month jail term for disobeying a court order to end the strike.
"The one-month jail sentence will be suspended for two weeks to allow the officials complete negotiations with the Government and call off the strike, failure to which they will be arrested and escorted to jail to start serving their sentences," ruled Wasilwa.
The officials include Samuel Oroko (chairman), Fredrick Oluga (secretary general), Titus Ondoro (first vice-chairman), Allan Ochanji (second vice-chairman), Hamisi Chibanzi (deputy secretary general), Daisy Korir (treasurer) and Evelyne Chege (deputy treasurer).
The judge also declared that the 2013 Collective Bargaining Agreement (CBA) doctors want implemented has no legal basis.
"There is no CBA and your members should be told so. You have not even given the court a chance to resolve your dispute. As far as I am concerned, you are disobedient Kenyans who do not respect the law," said Wasilwa.
But the doctors said threats to sack or jail them wouldn't intimidate them into calling off the strike, insisting the CBA must be implemented.
"We want to make it clear, our focus is one the CBA and must be registered and implemented in full. We are not going back to work until that CBA you (government) keep on discarding is implemented," vowed Oroko.
This came as Kenyans continued to suffer and cry in anguish across the country.
Juma Amon, 30, is a widower after only five years of marriage. He blames the doctors' strike for the death of his wife, Riziki Joha, 28. Joha had an ectopic pregnancy - a complicated condition that required an emergency operation. Amon says help came too late, he had already lost her.
Two new political parties formed by ODM politicians
MDG will not field a presidential candidate but will instead support the National Super Alliance flag bearer. This signals the onset of major realignments in political parties and alliances as they deal with the issue of bungled primaries and sycophancy that has seen undeserving candidates handed nomination certificates.