State now expels American NGO's boss, Genet Menelik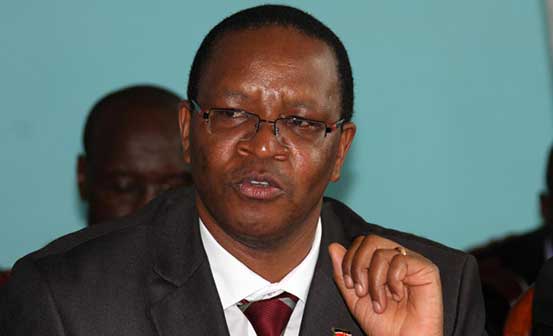 The Government on Thursday deported a senior official of an American non-governmental organisation that hit the headlines over a Sh2.2 billion electoral programme in Kenya.
International Foundation for Electoral Systems (IFES) head of operations Genet Menelik was traveling from the United States of America but was turned away at Jomo Kenyatta International Airport.
It was not immediately established why she was turned away, but government officially denied any connection between the events on Thursday and IFES friction with the government over their operations in Kenya
When contacted, Interior Principal Secretary Karanja Kibicho termed it a 'bad coincidence', saying refusal for entry would have nothing to do with what he said is 'IFES illegal status in Kenya.'
"It is just a bad coincidence. The reason Menelik, who is also the Deputy Chief of Party, was turned back has no relationship with the organisation. Refusal for entry is not the same as deportation," the PS explained.
He added: "If you know you are traveling, you need to do certain things and if you do not do them and you are refused entry then that is your issue. They also know they have breached our agreement to communicate in confidence because this is a sensitive matter. I am very disappointed because they keep running to the media instead of correcting their mistakes."
Charitable organisation
Similarly, Mr Kibicho reiterated that IFES operations will not be permitted until it acquires a legal status in Kenya. "We have advised them on what they need to do. How they maneuvered before and continued operating hiding under contracts with IEBC I don't know, but they must do things in the right way and we have told them as much," stated Kibicho.
In a letter dated December 22 2016 and which The Standard on Sunday exclusively obtained, Kibicho wrote to Ms Tina Dooley-Jones, acting mission director, USAID Kenya and East Africa reiterating the government position on the matter.
"Further to the NGOs Co-ordination Board's letter referenced as NGOB/5.30A/8/Vol.XII and dated December 19, 2016 whose contents we have noted. We have taken note that IFES is registered as a charitable organisation in the US under 501(c) (3) and is currently engaged in electoral programmes in Kenya including, but not limited to Elections Coordination, Voter registration, civic education, capacity building, advocacy, youth and women participation in elections, consensus building and conflict early warning/ early response," the letter said.
He added: "We have reviewed the objectives and activities IFES intends to execute under the Kenya Electoral Assistance Programme 2017 and have noted that they fall within charitable objectives as is encapsulated under the NGO's Co-ordination Board. You are, therefore, advised to urgently seek the registration of IFES under section 10 of the NGO's coordination Act, 1990 to acquire the requisite legal status in Kenya."
According to documents we have seen, IFES was registered in Kenya on July 25, 2011. The contents of the incorporation certificate signed by registrar of companies reads: "A company incorporated in USA has this day delivered to me for registration the document in particulars specified in section 366 of the companies act (CAP.486)"
Similarly, other documents show that IFES is also registered as a charitable body in the US under section 501 (c) (3) of the Internal Revenue Code and the non-profit corporation act in Washington DC. A fortnight ago, NGOs Co-ordination Board told IFES to immediately suspend its Sh2 billion engagement with in the country's electoral process. IFES has been working under USAID to carry out civic education, voter education and conflict early warning ahead of the August 8, 2017 General Election.
Michael Yard, IFES's chief of party, who has been working in Kenya is also under focus. Sources within government say he is under scrutiny over his identification and working documents.
Key sources equally said his operations in the country have been brought to question. Majority Leader Adan Duale recently claimed that Mr Yard was working with CORD to rig next year's election.
The move to stop the NGO from operating in Kenya came only days after President Uhuru Kenyatta warned international organisations against interfering in the forthcoming polls.
Tevez: From misery to mega-money
From the violent streets of Buenos Aires' notorious Fort Apache, the son of an alcoholic mother and without money to even buy a pair of boots, Carlos Tevez is now football's biggest earner.