Interior Cabinet Secretary Joseph Nkaissery reveals 90 deadly criminal gangs in Kenya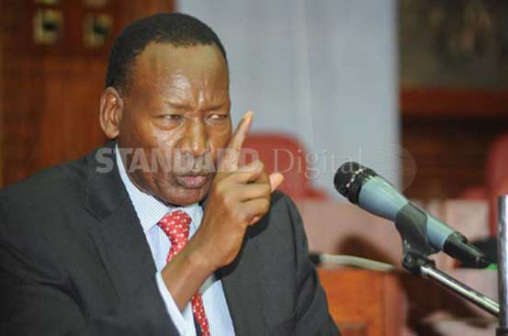 Interior Cabinet Secretary Joseph Nkaissery has revealed 90 criminal gangs, saying that members of such illegal groups would be arrested and charged in court.
Prevention of Organised Crimes Act, 2010 spells out tough measures to deal with criminal gangs by imposing jail terms ranging from 14 years to life imprisonment for those found guilty. It also provides a harsh penalty for anyone who fundraises, organises or directs members of a criminal gang to commit a serious crime and/or for those taking or administering oath as they are liable upon conviction to life imprisonment.
In a gazette notice dated December 30, Nkaissery said he took the steps following advice of the Inspector General of police Joseph Boinnet.
Among those named in the notice include the Gaza gang, which operates in Kayole, Superpower in Eastleigh and 42 Brothers, based in Eastlands, Acrobatic, Akapulo, Akili Za Usiku, American Marines, Bad Men, Black Latino, Bongo Rongo, Boston Boys, Bulanda Boys, Chapa Ilale, Chifu Kali, Chimoi Highway Gang, China Squad and Chini ya Mnazi.
According to the notice, Mungiki seems to have changed its name to Eminants of Mungiki. Other named groups include Young Turks, Young Mulas, Young Killers, Ya Moto, Watoto wa Kambete, Watalia, Wasasi, Wakali Wao, Wakali Pili, Wakali Kwanza, Wajukuu wa Bibi, Vijana wa Labour, Vietnam, Timboni Mteja, Lipa Kwanza, Kisoda Crew, Kenda Kenda, Kawangware Boys, Kasumburu Cool Base and Karanja Road Usalama Group of Kibera.
Others are Chunga Chunga, Colombo, Confirm Group, Cool Base, Corner Stars, Egypt Boys, Mji Mkubwa, Elite, Five Fingers, G15, Mafuguli Gogo Team, Marachi Republican Council, Masaa Soo, Mesenari, Matakwei, Mawaiyo, Mayakuza, Mbele Yao Gang, Mkuki, Mosad, Ndundu River Boys, Nzoia Railway Gang, Quick Response Group, Rambo Kanambo and Rangers FC.
Nkaissery also named Rounder Seniors, Sanfit, Sarogeza, Seven Lions, Sikujui, Sixty Four, Smart, Smarter, Spanish Boys, SWAT, Taliban Boys, Tek Mateko, Temeke, Tiacha Group, Gaza Strip, Islamic State, Jikoni Boys, Jimba Lords, Kabaridi, Kadu Asili Networks and Kaganalau as illegal gangs.
The reports showed organised criminal gangs were responsible for violence ranging from robbery, beating, killing, shooting and beating while police officers were majorly blamed for beatings and harassment linked to extortion.
Police were accused of colluding with some members of these illegal groups while some allegedly ignore useful information from the public that may help them stop illegal activities.
The reports indicate that politicians give funds to the gangs.
Some of contributing factors the reports highlighted were legal limitations, high poverty rate, unemployment and corruption.
In a bid to address the problem, the reports have recommended that government enacts the required or fully implement relevant legislations and also enhance intelligence gathering and information sharing among the relevant players.