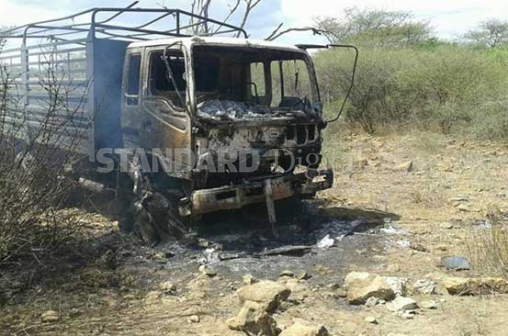 Heavily armed bandits raided the home of former Inspector General of Police David Kimaiyo in the banditry-prone Marakwet East and stole 50 goats.
It took the intervention of police officers in Armoured Personnel Carrier (APC) to push back the bandits who had raided Mokoro Location in Elgeyo Marakwet County.
"The raiders from Baringo had seized hundreds of livestock from herdsmen in the fields in Mokoro at about 4.30 in the evening but officers in an APC assisted by National Police Reservists dispersed the group of the over 40 bandits and recovered all animals," said Eric Mulevu, Marakwet East Deputy County Commissioner.
This was the third attack targeting the former Inspector General of Police's livestock in the recent past.
"Three weeks ago, they ambushed my herdsman and went away with five goats including those of other farmers. On the night of December 25, they cut the barbed wire and wire mesh in my home and took ten goats away," said Mr Kimaiyo.
"The worst attack," he added, "was yesterday evening when the herdsman was ambushed and shot at and my 50 goats together with those of other farmers were stolen, luckily he was not injured," he added.
Kimaiyo said criminals have taken advantage of the Pokot-Marakwet feud and the inter-clan fights to enhance lawlessness.
"It is sad that a former IG is living like an IDP in his home. The impasse between the two clans has made life difficult, the water in furrows and pipes to my farm and my neighbours' have been delinked by the other clan there and we depend on water supply from the county's water boozer which needs to be escorted by police too," explained Kimaiyo.
According to the locals, the situation is getting worse despite more security officers being deployed to the area. Tension has persisted throughout the Christmas season with bandits terrorising residents and paralysing transport and business activities.
On Wednesday night, police thwarted an attempted attack at Sangutani Village in Endo Location and shot dead one cattle rustler.
"There was no casualty on the Marakwet side and all the stock was recovered, the area OCS, NPR (National police reservist) and local chiefs are in the area to ensure calm returns," said Marakwet East Deputy County Commissioner Eric Mulevu.
There are fears that several schools might not reopen for first term next week due to the prevailing insecurity.
gun fight
Worst-hit are schools in areas affected by cattle rustling, mainly in Kerio Valley, Baringo North and Baringo South where a government security operation exercise is currently under way.
Yesterday, more than 30 General Service Unit (GSU) officers stationed at Kiserian in Marigat engaged heavily armed Pokot bandits in a gun fight. The camp, according to junior police officers, was under siege for over two hours before the attackers were finally overpowered.
The heavily armed raiders also set ablaze surrounding vegetation in an attempt to create an escape route, two days after barricading all roads leading to their strongholds.
Illchamus community human rights activist Amos ole Mpaka claimed the Government was not serious about stamping out the banditry menace.
"We are talking of 10,000 cattle and above stolen from Elgeyo-Marakawet, Turkana, Samburu and parts of Baringo and hidden in bandits' strongholds,'' he said.
He said the cattle rustlers never take the warnings issued by senior government officers, led by President Uhuru Kenyatta, seriously.
However, Inspector General of Police Joseph Boinnet said a major security operation will be conducted in the affected areas, which have not enjoyed peace since 2005.
Last week, bandits burned down a truck belonging to police officers at Noosukuro and shot one of the officers in the leg.
A simultaneous raid took place on the Turkana and Baringo border where an unknown number of suspected Turkana herders staged a raid at Nakwianamor village in Lokis, Pokot County, and took away 74 cattle. Johnston Koskei, Lokis sub-location chief said the stolen animals were driven towards Lokwiamosing in Lokori, Turkana East.
On Wednesday, cattle rustlers from Baringo made away with an unknown number of livestock in Kerio Valley. Unconfirmed reports indicate that a bandit died during the gun battle and two residents were left nursing serious injuries during the hour-long confrontation.
Yesterday, locals accused the Government of neglecting them, complaining that the situation is getting bad by day.
Thomas Ruto, a resident of Tot, told The Standard that the criminals are going for more than cattle.
"The criminals suspected to be from Baringo, who were initially stealing animals, have turned focus to motorbike operators. Road transport from Soko Bora to Chesongoch is currently a dicey affair due to the attacks," said Ruto.
According to Mr Ruto, one person was killed and two others injured on Monday night when bandits fired at four persons riding on a motorbike at around 9pm in Marakwet East.
Ruto said the situation has been worsened by the inter-clan feuds between Kapsiren and Kabishoi Marakwet communities fighting over boundaries and key natural resources.