Outrage as battle for governor seat reignites clan rivalry in Embu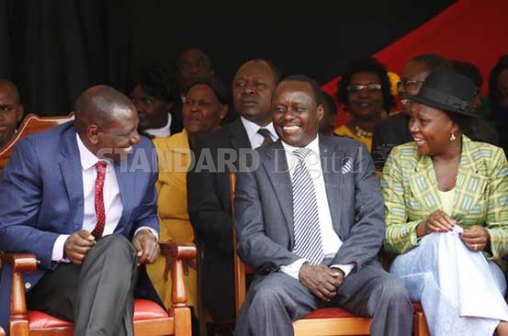 The intense battle for Embu governor's race has revived the unwanted clanism in Mbeere community.
The rivalry between Senator Lenny Kivuti and Runyenjes MP Cecily Mbarire has reignited groupings that Embu's political, religious and opinion leaders sought to end for decades.
The two allies-turned-foes parted ways after Kivuti declared his interest in the governor's seat, a position Mbarire has been eyeing.
Kivuti had allegedly pledged to support her.
At the centre of the renewed clan politics is a much hyped pre-2013 elections Memorandum of Understanding where elders and leaders are said to have agreed that Embu would produce the governor and Mbeere the senator.
Mbarire is relying on that MoU which worked in 2013 when Governor Martin Wambora from Embu community and Kivuti from Mbeere won their seats.
But clanism in Mbeere has been revived with recent happenings in the race for the gubernatorial seat. Mbeere's main clans, Ndamata and Mururi, had for decades, prior to the 2013 polls, not seen eye to eye. They have now declared their support to two rival aspirants.
On Saturday, more than 1,000 elders from Ndamata clan endorsed Mbarire for governor and formed a seven-member committee to negotiate with her on how the clan will benefit if she becomes the new governor.
The elders were joined by National Assembly Speaker Justin Muturi, Embu Speaker Kariuki Mate, Mbeere North MP Muriuki Njagagua and Embu Majority Leader Andrew Musakwa.
A week earlier, the Muuri and 39 other smaller Mbeere clans had endorsed Kivuti for the same position. Kivuti hails from the Mururi clan. It is these endorsements that have elicited uproar and condemnation from different quarters.
But Embu leaders such as Mbeere South MP Mutava Musyimi, Mwariama Council of Elders, Deputy Governor Dorothy Nditi, governor hopeful and former PS Cyrus Njiru and Rev Eustace Mituki of Evangelical Churches of Kenya have criticised the endorsements.
They separately said such clan-based forums will divide the county.
Dr Njagi Kumantha, the Mwariama chairman is concerned that clanism, which was previously more pronounced in Mbeere, may now find its way into the Embu community. According to Kumantha, in Embu, Gatavi clan has now joined hands with Mururi clan from Embu while Ngua is aligned to Ndamata.
"This is a dangerous development that needs to be discouraged," Kumantha says.
Rev Musyimi warned that clan politics must not be allowed to reach unmanageable levels while Njiru says he requested the National Cohesion and Integration Commission (NCIC) to probe the matter since it could trigger animosity among the people.
Elders' advice
"President Uhuru Kenyatta will not support a candidate on clan grounds. That will go against the his spirit of uniting all the Kenyan communities," he said.
"I have worked closely with the President and I know him as a person who will let the Embu people make their own choices,"
Kumantha also revealed that the said power sharing agreement was no more than an "elder's advice".
Mwariama elders, Ephraim Kithimi and Njeru Murinda from Mbeere community, Nyaga Nthua and Ephantus Maringa from Embu Community also warned that clanism may lead to divisions.
Observers reckon that the high stakes battle for the governor's position has potential to divide not only the Embu and Mbeere communities, but also lead to disenfranchisement of the Mbeere sub-tribes based on the Ndamata and Mururi clan affiliations.
Contestants are hoping to consolidate votes from their populous regions with swing votes from blocks where clan politics is emerging.
According to the Independent Electoral and Boundaries Commission (IEBC) 2013 statistics, Manyatta had 74,505 registered voters, Runyenjes 66,000, Mbeere North 50,000 and Mbeere South 36,500.
Since independence, Mbeere South constituency had always elected its leaders from Mururi clan while Mbeere North picked its leaders from Ndamata clan.
At one time, the divisions between the two clans were so pronounced and rife even in schools and churches. In 2011, elders from both Ndamata and Mururi carried out a ceremony to reunite the two clans for the benefit of the larger Mbeere community.
The ceremony which was conducted on the banks of River Ena at Kamumu grounds in Mbeere North District, included killing of two goats, one of which was strangled and skinned in the middle of the river to signify the end of an era and the beginning of another.
But recent happenings, ignited by the public spat between Kivuti and Mbeere in September, has threatened to derail this unity.