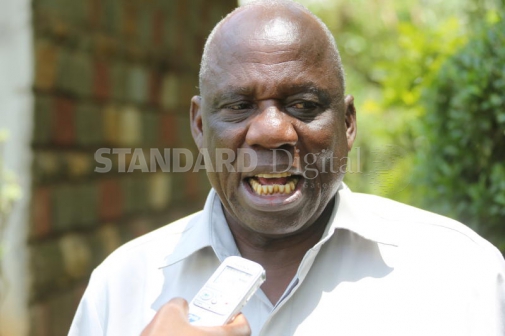 After 30 years of church service, outspoken ACK Bishop Beneah Salala of Mumias Diocese feels he could contribute even more to the society by joining politics.
Salala is categorical that he is not joining politics to seek wealth or fame, but to develop Matungu constituents.
The bishop was among the group that fought for establishment of the constituency in 1996 after part of Mumias was hived off to form Matungu.
In an interview with The Standard on Sunday, Salala said he is banking on well-wishers and friends to facilitate his campaigns.
No easy time
He said he is not expecting to have an easy time ousting the sitting MP, David Were, but he believes his contribution to the constituency for 14 years as a cleric will give him an edge.
Were recently decamped to Jubilee Party, whose ticket he will use to seek a fourth term.
Salala is a known political commentator and educationist and he is not the only cleric who has joined politics in Kakamega County.
Bishop Titus Khamala of Cornerstone Ministry in Kakamega tried his hand in politics in the 2013 polls. He is set to make a second stab on Lurambi parliamentary seat after he was defeated by current MP Raphael Otaalo.
Salala acknowledges that it will take more than hard work for a first timer to outwit Were, considering that he has been in power for about 15 years. Were won the seat in 2013 on a ticket of New Ford Kenya, which was dissolved to form JP.
It remains to be seen how he will manoeuver around and beat his opponents on a JP ticket in a constituency that is perceived to be an Opposition stronghold.
Salala, who announced he will contest for the seat on Amani National Congress (ANC) ticket, revealed that scores of educationists and the business community in the constituency have thrown their support behind him.
He has also urged other like-minded people to join his camp.
"I am joining politics and it will be like the Biblical battle of David and Goliath. With the support of those who are ready to see change in our constituency, I will emerge a winner," he said.
No handouts
So far, four aspirants eager to unseat Were have emerged. They include businessman Rodgers Okumu, Peter Nabulindo who works in the Senate, and Paul Posho, the ODM Matungu branch chairman. The number is expected to rise as the General Election beckons.
Salala has already sounded a stern warning to his supporters not to expect handouts from him.
Mr Okumu, 35, who is expected to seek the Orange Democratic Movement (ODM) ticket, has welcomed the bishop into the race, saying their main agenda is to change the leadership of the constituency.
"Matungu does not have even a single tertiary college apart from one Youth Polytechnic that is serving the entire constituency. We ought to have a sub-branch of Masinde Muliro University, but our efforts have not been supported by the current leadership," said Okumu.
Salala said since Matungu's inception, there is nothing the constituents can be proud of.
"I nearly lost my life when I was fighting for creation of Matungu constituency. It pains me when I see that after struggling to ensure we have our own Matungu, there is nothing to be proud of," he said.
Salala says he understands that the task ahead is enormous, but he is determined to meet the challenge "head-on". Key on his agenda if he ascends to power will be to improve education, which, according to him, is in bad shape.
He also wants to ensure that every ward has a project that can spur both economic and social development. Salala is upbeat that he is the right man to lead Matungu to greater heights.
The cleric is expected to retire in October next year.
Asked how he plans to venture into politics when he is still in office as the elections are slated for August, he said, "I will have to apply for sabbatical leave that will extend beyond my retirement date."