ODM ticket hopefuls up in arms over list of preferred candidates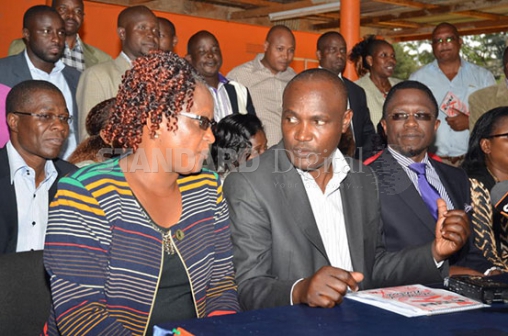 Anxiety is growing within the Orange Democratic Movement (ODM) following claims some party officials were intimidating political office hopefuls while promising others free nomination tickets.
On a day the party marked its 10th anniversary with pomp and fanfare in Mombasa, its top leaders — national Chairman John Mbadi and National Elections Board Chair Judy Pareno — issued a warning to individuals trying to interfere with the party's 2017 plans.
This follows claims that some officials and activists were already drawing lists of aspirants, including governors, who will not be cleared to run on the party's ticket in next year's elections.
Gem MP and National Assembly Deputy Leader of Minority Jakoyo Midiwo sparked off the anxiety on Tuesday when he named a senior official who he accused of intimidating aspirants and promising their opponents direct nominations.
Integrity issues
"It is wrong for some of us to threaten aspirants that they will not be given certificates. We must watch our language," Midiwo told a Kisumu-based radio station during a live interview.
He claimed the official had told a governor at a restaurant in Nairobi that ODM will not clear him to defend his seat. He said the party can only deny an aspirant a ticket if he/ she has integrity issues.
But on Friday, Midiwo changed tune and said that ODM governors who cannot explain how they spent funds allocated to their counties should be locked out during nominations.
Midiwo accused some governors of failing to stop corruption within their governments.
"Some of these people have been stealing our money and we cannot re-elect them to continue stealing. They will not be in our line-up," he said. "We spent a lot of time campaigning for them but they only went there to mismanage the tax payers' money. These are the people who should be locked out of the elections."
But Ms Pareno cautioned leaders against remarks about issuance of party tickets ahead of the 2017 elections.
In an interview with The Standard on Sunday, Ms Pareno said only the elections board has the mandate to handle party primaries and issuance of certificates.
"I am assuring all the 2017 polls hopefuls that we will follow the due process. We will strictly abide by the party's constitution and election and nomination rules," she said.
Pareno, however, warned that the set out terms and conditions such as vetting of all candidates will also be applied.
"We will ensure that every mandate of the board is achieved as stipulated because we want free, fair and credible nominations across all the five elective positions," she said.
She denied reports that some aspirants already have ODM tickets for the 2017 elections.
The planned vetting of the candidates, she said, was not a witch hunt but a laid down condition whose purpose is to ensure fairness and professionalism.
Mbadi warned party officials against intimidating hopefuls. He said those trying to intimidate party hopefuls while promising others free certificates will face disciplinary action.
"They are wasting their time because even the party leader Raila Odinga will not have a say in the nomination exercise," he said.
The growing anxiety over the ODM primaries was best captured by Kisumu Governor Jack Ranguma who recently claimed that some politicians seeking to unseat him were boasting they already had the tickets.
"Although the party leader himself has pronounced that there will be no preferred candidate, some cowardly aspirants are peddling cheap propaganda that they have ODM tickets," he said.
Fair competition
"They are saying in meetings that Ranguma will not be given a certificate. They are worried because they are not used to clean political competitions."
The Kisumu governor challenged ODM officials to carry out free and fair nominations.
"We insist on free and fair nominations and if the party leader wants to build the confidence necessary in uprooting Jubilee, then the rights of the electorate to choose their candidate must be championed," he said.
Two weeks ago, ODM governors invited Raila to Naivasha where they petitioned him to assure them of free and fair nominations.
They also expressed fears that some of their opponents could use their closeness to him to short-change them.
"It will not be a smooth ride for those who thrive in stealing nomination tickets. If they are not ready for competition, let them try elsewhere.
"Those claiming to be in possession of the party certificates had at one point reneged and shifted allegiance, only to return," he added.