Nzamba Kitonga taken to task over new law in Chief Justice job interview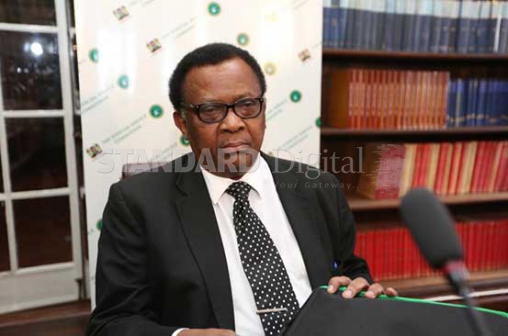 Senior Counsel Nzamba Kitonga's tenure as the chair of the Committee of Experts came back to haunt him yesterday when members of the Judicial Service Commissioners interviewing him for the position of Chief Justice put him to task over controversial provisions in the constitution that he helped draft.
The commissioners sought Mr Kitonga's explanation on how he intended to help interpret such provisions as the rights of persons practicing witchcraft, gays and lesbians. But the former Chair of the constitution-making team did not budge in his defence of these provisions.
"I do not believe in witchcraft although many people in my community practice it. I consider it as a crime and those practicing witchcraft that does not harm are fraudsters. Although it is not unconstitutional to practice witchcraft, it should be a criminal offence," said Mr Kitonga.
He defended the provision that protected the rights of gays and lesbians, saying there should not be any debate or compromise on how these relate to marriage because the Constitution clearly stated that a marriage should only be between adults of opposite sex.
He further defended the Committee of Experts over claims that they created a problem in gender equality, saying the blame should be on Parliament and the Independent Electoral and Boundaries Commission for failing to come up with laws to ensure gender equality.
"I admit there are some mistakes in the Constitution but that is understandable given that it was a document arrived at after a lot of compromise. We should, however, give it at least four more years before amending it," he said.
MY VISION
Mr Kitonga outlined his vision for the judiciary saying his priority if appointed Chief Justice will be to restore public confidence.
He said his vast experience in law practice, including chairing the Committee of Experts that came up with the 2010 Constitution, gives him the knowledge to turn around the judiciary at a time when public perception over delivery of justice is very low.
"The judiciary was in Intensive Care Unit and former CJ Dr Willy Mutunga improved it to High Dependency Unit. I will move it to the general ward or discharge level if given the opportunity," said Mr Kitonga.
Mr Kitonga defended himself against claims that he under-performed as a member of the commission that investigated the Goldenberg scandal and being favoured by the governments of the day to assume the various senior positions in the past.
Rugby titles for Kakamega, St Peters
Kakamega High School recaptured their East Africa rugby 15s title with one match to spare having won four out of their five round robin duels. Determined to end a two-year trophy drought that saw them struggle to finish third in 2014 and fourth in 2015, the Kenyan students were in a class of their own.