Delameres to pay family of man shot dead by Tom Cholmondeley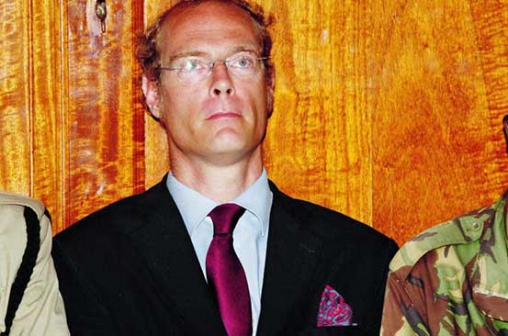 The Delamere family will compensate the family of a KWS warden who was fatally shot by Tom Cholmondeley in 2005.
The family of Samson Ole Sisina will receive an estimated 50 cattle after their lawyers agreed on the compensation. Sisina's family had threatened to stop the burial of the aristocrat.
Cholmondeley, who died last week while undergoing a hip operation at Nairobi's MP Shah Hospital, will be buried on Friday on the family's farm in Soysambu. He will be laid to rest next to his grandfather's grave.
According to a source, Lord Hugh George Delamere, Cholmondeley's father, agreed to the compensation so as to clear the family's name.
The source added that the wife of the late KWS ranger Lucy Sisina and some Maasai elders would collect the cattle any time soon.
"The family of the late Delamere has agreed to compensate the Sisina family through a herd of cattle as demanded, while other issues will be discussed with time," said the source.
Contacted on phone, the widow confirmed they were on their way to Soysambu to meet the Delameres.
"The Delamere family has called us for a meeting over the issue of compensation and we are on our way there to listen to their offer," she said.
Sisina was shot dead by Cholmondeley, as he and other KWS officers raided the farm in May 2005 in search of game meat.
The then Attorney General Amos Wako later terminated the murder case against Cholmondeley, a move that drew condemnation from various quarters.
The Delamere family also compensated the family of Robert Njoya who was shot by Cholmondeley in April 2006 while allegedly poaching in his farm.
"The wife of the late Njoya was given capital to start a business in Nakuru town while the Delamere family catered for the school fees of his two children two years later," the source said.