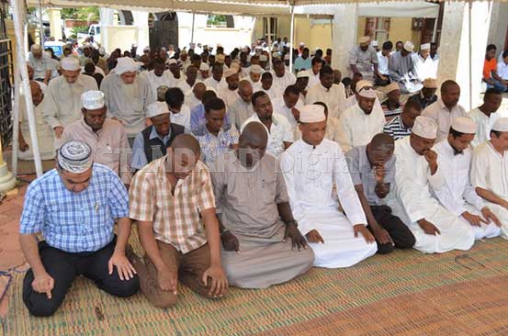 Mainstream Muslim organisations and scholars have defended Chief Kadhi Sheikh Ahmed Muhdhar against criticism for advising the Interior ministry to declare Idd-Ul-Fitr on Thursday.
Supreme Council of Kenyan Muslims (Supkem) Secretary General Abdulghafur al Busaidy and his allies yesterday accused the Shura Council and other opponents of the Chief Kadhi of trying to divide Muslims.
He also accused them of challenging the theological authority of the Chief Kadhi's office and overturning long-held traditions regarding Idd-Ul-Fitr.
Prof Al Busaidy said the Shura Council and their allies are tribal organisations pandering to an ethnic agenda and the wishes of the Islamic religious authorities in Saudi Arabia.
He said although the matter of the start and end of Ramadhan is an old controversy, Kenyans had lately reached consensus on how to handle it.
Several organisations, including Shura Council, the Council of Muslim Scholars of Kenya, Ummah Foundation, Muslim Lawyers League, Maahad Daawah Organisation and the Kenya Muslim Media Practitioners Association, have questioned the Kadhi's advice, declaring it "irregular and unilateral".
Opponents of the Shura Council yesterday said, however, that it consists of self-appointed people with no authority to speak on Muslims' behalf.
Shura Council chairman Abdullahi Abdi recetly said the Chief Kadhi is a judicial officer, with no authority to adjudicate Islamic jurisprudence beyond Muslim personal law on inheritance, marriage and divorce.
In sentiments repeated in the Friday Bulletin, which is published by the Jamia Mosque Committee in Nairobi, Abdullahi declared that the office of the Chief Kadhi has no role in deciding when Muslims should begin and end the fast of Ramadhan or declare when Idd-Ul-Fitr should be observed.
"He cannot declare any day on behalf of Muslims. He is just a judicial officer working for the Judicial Service Commission," Abdullahi said.
The Chief Kadhi's opponents feel that Eid should be marked on Tuesday or Wednesday because Ramadhan began on June 6. They argue that Idd-Ul-Fitr should automatically fall on the end of 30 days of fasting, but may fall on the 29th according to the lunar calendar.
Most Muslims in Kenya and other parts of the world began the fast on June 7, a counting which the Chief Kadhi backs and upheld in his advice to the government.
The Shura Council said Sheikh Muhdhar usurped a role he does not have under the 2010 constitution and should be "exposed".
Al Busaidy accused Abdullahi of ridiculing the office and authority of the Chief Kadhi.
"These people who claim to be speaking for the Muslim Umma have no mandate and we do not recognise them," Al Busaidy said, accusing the Shura Council of pursuing "political interests".
Al Busaidy said in Kenya's Islamic tradition, the Chief Kadhi is accepted by consensus as an authority on the matter of Ramadhan and Idd-Ul-Fitr and accused Abdullahi of trying to usurp that tradition unilaterally.
The SUPKEM boss said Shura Council leaders did not challenge this tradition when they attended a meeting of Islamic scholars in Nairobi's Jamia mosque on October 24 and 25 last year.