Laughter as President 'sets record straight' on his visit to Uganda during President Museveni swearing in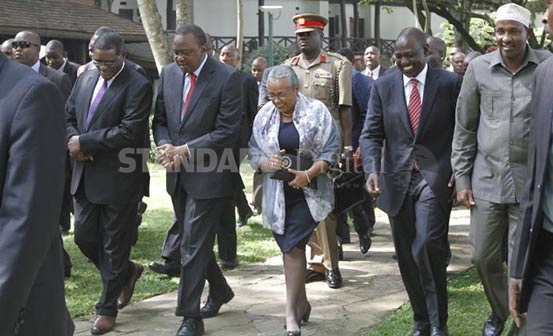 President Uhuru Kenyatta caused laughter at the prayer meeting when he sought to "set the record straight" saying he visited Uganda for the swearing in of President Yoweri Museveni and not Opposition chief Kizza Besigye.
"People in this country have different ways of interpreting what one says, I want to set the record straight that when the Uganda Speaker says I visited Uganda, it was during the swearing in of President Museveni, not the other one," Kenyatta said.
Ugandan speaker Rebecca Kagada also termed her visit a 'revenge' following Ruto's visit to her country for a similar function last year.
She contextualised her choice of the word 'revenge' as used by the former dictator Iddi Amin when he visited the Queen in UK and was humbled by the reception, only to promise her a revenge when she visits Uganda.
"Trust must have elements of consistency. A nation will exist longer than any president. What we are experiencing are self-made divisions. We have things to do, reforms and prosperity, which requires each and every one," said President Kenyatta.
He argued, "There is no big and small role. People must work together."
Ruto called upon the leadership to remain truthful in their deeds and intention.
"Let's not appear trustworthy yet we are very deceitful. Our transactions should be transparent and honest," said the DP.
Key note speaker David Horsager, an author and leadership speaker moved the meeting with his insights on the importance of trust, consistency, commitment and discipline.
He cautioned leaders against seeking shortcut to leadership and not engaging widely.
"I am not saying you get out that person or this person, you have got to look at what you are putting in yourself. What would you take out? I wish Odinga were here, I wish others were here. I wish we were together so we can all talk," he said.
He went on, "What can we all do?
Consistency and commitment. Great leaders like Nelson Mandela and other celebrated world leaders had similarities. Commitment breeds commitment."
He challenged leaders to be firm in their decisions and stand out.
"This is discipline. Great leaders have self-control. They say no to what they don't want," he said. Speakers Ekwee Ethuro (Senate) and Justin Muturi (National Assembly) also stressed on the need for peace, warning that violence is costly.
"Fundamental freedom for religion is there. It has wisdom for knowledge. Let's pray like Solomon for the instrument of peace," Muturi pleaded.
Ethuro said: "A nation that is not built on the word of God is useless. Kenya is a prayerful nation as has been demonstrated in the past."
Former national prayer chairman Samuel Poghisio also weighed in on the issue of trust and integrity.
"Leaders must shun greed and selfishness. They must offer genuine services," he said.
The prayers were moderated by Breakfast committee co-chairmen Clement Wambugu (Mathioya) and Senator Beatrice Elachi.
Council of Governors (CoG) vice chairman John Mruttu (Taita Taveta), ICT Cabinet Secretary Joe Mucheru and Commissioner Lorna Mumelo (Parliamentary Service Commission) called for peace and unity as the nation approaches an election year.