Soita Shitanda: Father of the poor who cherished hard work and fun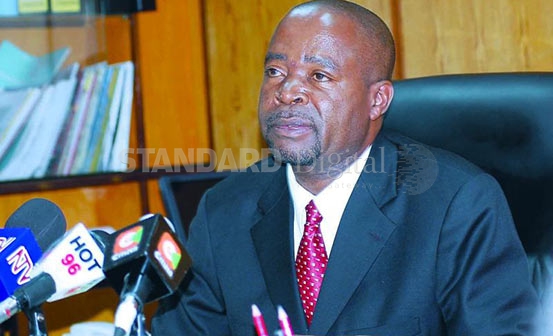 For 15 years the late former Housing minister Soita Shitanda served as Malava MP, he was a darling of the poor.
His love for the needy won him hearts and made him one of the most formidable politicians in Western.
Shitanda always attended funerals and social events held to support the community's social economic and political agenda. Residents say he was a father-figure to many.
When curtains fell on him last week at the age 57 at a Nairobi hospital after a long illness, Malava residents were crestfallen.
Mourners thronged his Butali home to pay last respects to a man they considered their political hero.
Malalu Festus, a longtime friend of Shitanda, is among those struggling to come to terms with the former minister's demise.
They attended Tande Primary School before joining Malava High School. Malalu says they played and looked after cattle together.
"I do not know any other fun loving but polite man. Shitanda was a true friend," Malalu mourned.
When time to face the cut came way back in 1970, Shitanda and Malulu agreed to be circumcised. However, Malalu pulled a first one when he got married first.
"Shitanda told me not to brag about that achievement because his time would come," recalled Malulu, who together with the former MP studied accounts.
Luvaha Partis, who was Shitanda's principal at Malava High School, says the late leader was diligent and hard working. "We made him a house prefect because he demonstrated leadership qualities," he said.
Locals say Shitanda was a shrewd leader who always created time out of his busy schedule to interact with his constituents.
Before his election to Parliament in 1997, the former MP was a political activist and businessman dealing in cars. He clinched a second term in Parliament in 2002 under Narc and became an Assistant minister in the Office of the President.
He was elevated to head the Ministry of Housing in a Cabinet reshuffle in 2005. Shitanda was re-elected to Parliament in 2007 and re-appointed Minister for Housing. He died while serving as chairman of the Agriculture Development Corporation (ADC).
His long-serving driver, Baraza Lumukwana, remembers how cheerful Shitanda was. "He could crack jokes with people and laugh heartily. He loved both supporters and critics," he said.
Shitanda had a good memory and could never ignore childhood friends. "Whenever he spotted one, he would instruct me to park the car to allow him exchange pleasantries," Lumukwana recalled.
He also had the interest of sugarcane farmers at heart. "He fought for sugarcane growers in his backyard and along the Mumias sugar zone and no amount of intimidation from factories scared him," said retired chief John Maina.
Peris Matuku, an orphan, recalls how Shitanda paid her fees, constructed a house for her family and helped her secure a job.
The former MP could leave for Nairobi on Monday mornings only to fly back on Wednesday evenings to attend to his people.
He was also an ardent football fan. He was a fan of AFC Leopards and Manchester United.
He founded a constituency tournament dubbed the Soita Cup. His focus was on nurturing talents and keeping the youths occupied.
The late Shitanda loved boiled meat served with traditional vegetables, particularly Kunde or Suja.
He loved farming and had invested heavily in Bananas, maize, sugarcane and trees.
Hilder Muhanda, now a cashier at Malava-Kabaras Hotel owned by Shitanda, says the former MP was a people's person.
The last time he visited the hotel was in mid-April. Hilder says he was in high spirits.
"People thronged the hotel whenever he was around because they loved him and we would record good sales on that day," said Hilder.
When he returned from India where he had gone for treatment, the former MP announced he would reclaim his seat in the coming election. "Due to my poor health, I have decided to drop my bid for the Kakamega gubernatorial seat. Instead, I will go for the Malava parliamentary seat," the former legislator told supporters.
The late Shitanda was married to Betty Soita with who they had three children; Shally Nasumbu, Sidney Mwimali and Terence Shitanda.
The former Housing minister died last week on Tuesday at Nairobi Hospital.
The body will be buried today. President Uhuru Kenyatta, his Deputy William Ruto and Opposition luminaries led by former Prime Minister Raila Odinga are expected to attend.